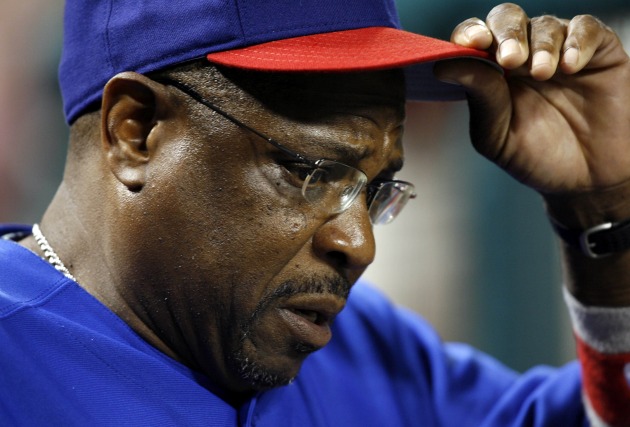 When Dusty Baker's departure as manager of the Cubs was all but certain, he had to deal with a truly abominable act.
"At the very end, somebody took a dump right where I stood in the dugout every day," Baker told FOX Sports. "That was the low point. The grounds crew guy cleaned it up. He said, 'Oh, I think it's dog crap.' I said, 'No it ain't. That's human crap.'"
That would be bad enough if that incident was isolated, but Baker also had to deal with threatening phone calls and letters that all too often skewed into the racist category. No one knows if the two incidents are connected, but the overall message is the same of intolerance.
Say what you want about Baker's managerial tendencies -- and people have, including this author in this very space when talking about Baker's wrecking of Kerry Wood and Mark Prior's arms along with Aaron Harang in Cincinnati (more on this later), but such actions are unacceptable, no matter the setting or situation.
Baker inherited a tough job in taking over Cubs manager and it only got worse after the infamous Bartman game during Game 6 of the 2003 NLCS. (And it must be pointed out that Steve Bartman does not deserve the blame for the Cubs blowing that game.) In fact, Baker and successors included, only Jim Riggleman has managed the Cubs for more than four full seasons since Leo Durocher's firing in mid-1972.
"They turn over their managers pretty quick," Baker said. "They don't stick with anybody for a period of time, because everybody's counting -- Year 100, Year 101, Year 102. There's no such thing as a four- or five-year plan. It's a one-year plan."
And yet, while plenty of other Cubs managers have had to deal with the outrage of Cubs fans, it's Baker that has to deal with human feces exactly where he stands in the dugout. Yeah, the groundskeeper cleaned it up, but that doesn't get rid of the figurative (and perhaps even literal) stink.
No one deserves that. But that's not all that happened to Baker in Chicago. Since his experience in Chicago, he's been saddled with a reputation that he perhaps does not deserve.
"It really hurt my reputation," Baker said of managing in Chicago, especially after disappointments in 2005 and 2006. "Ever since then, all of a sudden, 'I don't know how to manage. I don't know how to handle pitchers. I don't like young players.' … They don't even have a clue about it. I never heard that in San Francisco."
Baker had his missteps in San Francisco, most notably yanking Russ Ortiz with a lead in Game 6 of the 2002 World Series and attempting to give Hernandez the game ball, but it must be noted that there were no complaints about Baker's pitcher usage in San Francisco. It's tougher to defend his actions with Prior and Harang, but consideration must be given to the fact it would have happened regardless.
And there's certainly no defending the actions of whichever spineless person chose to take a dump at Baker's feet.
(Was this an inside job? Certainly no fan could get access to the field before the gates even open.)
-- Evan Brunell
For more baseball news, rumors and analysis, follow @cbssportsmlb on Twitter or subscribe to the RSS feed.