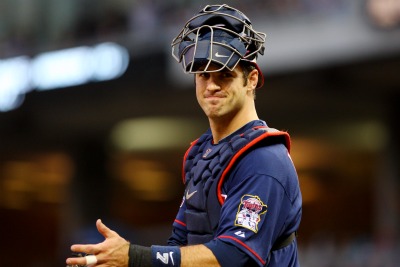 Joe Mauer, the consensus best catcher in the game, had an injection into his left knee Tuesday to lubricate the joint, as GM Bill Smith confirmed to the Minneapolis-St. Paul Star Tribune.
"Joe Mauer received a shot of medication to lubricate the knee joint," Smith said. "We will have him proceed slowly tomorrow, then work towards getting him back to full speed on Thursday."
Mauer is no stranger to knee injuries, having the knee scoped in December. It's the same knee that knocked him out for the latter half of 2004 to repair his medial meniscus. That's very concerning for a baseball player, especially one who crouches behind the plate for over a hundred pitches per game and doesn't lend the notion Mauer can last the duration of his eight-year deal, signed in March, behind the plate.
But that's getting ahead of ourselves. Mauer claims the injection of Synvisc, which is a lubricant, is not a big issue. He is slated to undergo two more injections spaced roughly a week apart. Fellow teammate Nick Blackburn had a similar injection along with star Rangers outfielder Josh Hamilton. Blackburn, in particular, had 90 percent of his cartilage removed after the 2003 season and used Synvisc to train and reach the majors.
Again, however, Blackburn is a pitcher and Hamilton an outfielder -- not a catcher, where the knees take a pounding. It's likely nothing to be concerned about for this season, but Mauer's knee issues bear monitoring long-term and he may need additional breaks from the plate this year. Mauer plays far more often than usual catchers, DHing extensively when he is not behind the plate. That role may have to increase.
-- Evan Brunell
For more baseball news, rumors and analysis, follow @cbssportsmlb on Twitter or subscribe to the RSS feed.