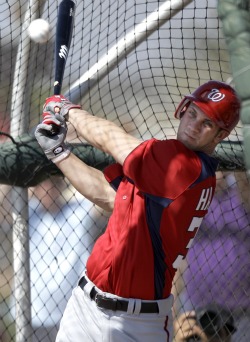 Baseball America released its annual Top 100 Prospects list today with Nationals outfielder Bryce Harper topping its list.
The Royals had the most prospects -- nine -- in the Top 100 and also had the best showing ever by an organization since Baseball America's list began in 1990, according to J.J. Cooper. To measure that, Cooper gave 100 points for having the No. 1 prospect, down to 1 for the 100th prospect. Doing so, the Royals' ranking of 574 points from Eric Hosmer (8), Mike Moustakas (9), Wil Myers (10), John Lamb (18), Mike Montgomery (19), Christian Colon (51), Danny Duffy (68), Jake Odorizzi (69) and Chris Dyer (83).
Not only did the Royals set the record, they crushed it. The second-best showing for an organization was the 2006 Diamondbacks (541 points) with Justin Upton, Stephen Drew, Conor Jackson, Carlos Quentin, Chris Young and Carlos Gonzalez. All but Carlos Gonzalez helped Arizona to an NL West title in 2007, while Gonzalez was later traded and turned out to be pretty good.
The third-place organization in Cooper's calculations was the 2000 Marlins (472 points) with Josh Beckett, A.J. Burnett and Brady Penny that helped lead the team to a 2003 World Series title.
Rounding out the top 10 were the 2008 Rays (466), 1999 Marlins (441), 1992 Braves (440), 1991 Dodgers (439), 2006 Dodgers (430), 1995 Astros (426) and 2010 Rays (425).
As for other notes in Baseball America's past, they have all their Top 100 lists here. From that here's a list of the magazine's former No. 1 prospects:
2010 Jason Heyward
2009 Matt Wieters
2008 Jay Bruce
2007 Daisuke Matsuzaka
2006 Delmon Young
2005 Joe Mauer
2004 Joe Mauer
2003 Mart Teixeira
2002 Josh Beckett
2001 Josh Hamilton
2000 Rick Ankiel
1999 J.D. Drew
1998 Ben Grieve
1997 Andruw Jones
1996 Andruw Jones
1995 Alex Rodriguez
1994 Cliff Floyd
1993 Chipper Jones
1992 Brien Taylor
1991 Todd Van Poppel
1990 Steve Avery
As a side note, check out the Orange County Register's look back to 2001's Top 100 list and what it should have been in retrospect.
-- C. Trent Rosecrans
For more baseball news, rumors and analysis, follow @cbssportsmlb on Twitter or subscribe to the RSS feed.