Posted by Matt Snyder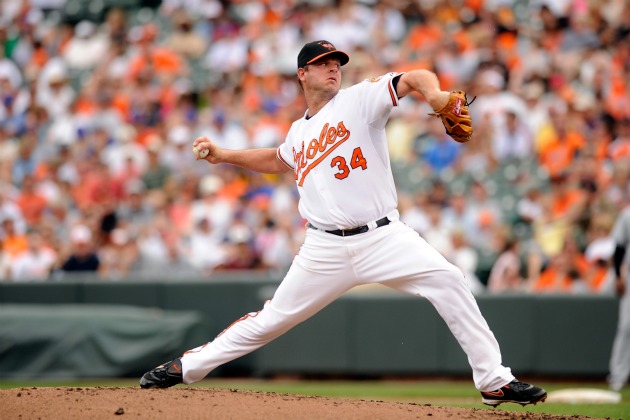 WAINWRIGHTED:
Let's face it, things are kind of (read: really) slow during the early weeks of spring training. We've got beat writers tweeting play-by-play of intersquad scrimmages, people making fun of people overreacting to
Tim Lincecum
's outing (though, at this point, I'm not sure
anyone
takes these early outings seriously) and one of the biggest news stories is a free agent for next season.
So when a star starting pitcher goes down injured, the aftermath is sure to linger. To the point that
Kevin Millwood
is a wanted man.
And rightfully so.
The Cards appear to be dead-set on
Kyle McClellan
entering the rotation. Manager Tony La Russa looks at him as a "real weapon" (
St. Louis Post-Dispatch
) and notes he's paid his dues. Which he kind of has, but the flipside is that, in the process, McClellan has become one of the better set up options in the majors. He posted a sparkling 2.27 ERA last season in 68 appearances. Removing him from the bullpen in favor of the rotation leaves a gaping hole in the late innings.
That is why plugging in a veteran like Millwood -- who Dave Duncan could surely make work -- seems like a logical move. Post-Dispatch writer Bernie Miklasz makes a really good case for Millwood. (
St. Louis Post-Dispatch
)


In other Cardinals' rotation news, it appears Chris Carpenter -- the remaining ace of the former pair of bullets -- could be traded and wouldn't necessarily block a deal. Obviously the Yankees would be in on it, but a nugget from this post is that the Yanks have "told their scouts to bear down on several teams they think could have starters available" before the trade deadline, including the Cards, Braves, A's, Angels and White Sox. (NY Post )

SETTLE DOWN, HE'S FINE: Another effect of the early preseason is the reactions to injuries. Brian Roberts has missed several workouts with neck stiffness. Since there's nothing else going on, it's big news for Orioles camp -- I mean, really, how much could you be following the Felix Pie vs. Nolan Reimold battle for a roster spot? -- but Roberts is actually OK. In fact, he said if it was the regular season he'd be playing. (MLB.com )

THE ON-BASE MACHINE: MLBTradeRumors.com reports that Nick Johnson is working out and expecting a call anyday now, because several teams are "monitoring" the oft-injured 32 year old. He has a career OBP of over .400, so he could help someone's lineup.

FEELIN' CHIPPER: Chipper Jones has been having issues with his surgically repaired knee this spring. He even needed fluid drained after inflammation as recently as Thursday, but Friday was a good day. In fact, he may play in a Grapefruit League game Sunday. (Atlanta Journal-Constitution )

TO-MORROW: Brandon Morrow is as talented as almost any pitcher in the league. We've seen evidence on the diamond, like when he shutout the Rays August 8 with 17 strikeouts and only allowed one hit. Or his 12 strikeouts in six innings against the Yankees. This season, he's looking to achieve "new heights." If he does, watch out, AL East. (Toronto Star )


NOT SATISFIED: With an OPS-plus of 130, Nick Swisher had arguably the best season of his career last season. His .288 batting average and .511 slugging percentage were both career highs for the 30-year-old veteran. Still, it wasn't enough for Swish. He wants more. (NY Daily News )

CHICKS DIG THE LONG BALL: Mike Stanton is strong. We know that. He hit 22 home runs last season in 359 at-bats. In 324 minor-league games, he hit 89 bombs. The potential is there for an elite power hitter. And Friday, he put on a "show" in batting practice. (Palm Beach Post )

CHICKS DIG DEFENSE? Designated hitter Jack Cust is most certainly not known for his fielding prowess, having played only 16 games in the field in 2010. But he flashed the leather this week in practice, to the point that teammates were impressed. (MLB.com )

DURBIN SIGNS: As expected, Chad Durbin has signed with the Indians. The Tribe's rotation is far from set, so one would figure he's going to be prominently in the mix. The righty hasn't started a game since 2007 for the Tigers. (Jerry Crasnick via Twitter )

BEATING WITH THE BRAIN: Are the Cubs smarter in 2011? They think so. (Chicago Sun Times )


For more baseball news, rumors and analysis, follow @cbssportsmlb on Twitter or subscribe to the RSS feed.