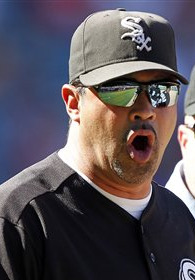 Posted by Matt Snyder
Those familiar with Ozzie Guillen won't be surprised one bit by this, though that doesn't mean it lacks entertainment -- as Ozzie is easily the most entertaining manager in the bigs. Guillen and former
White Sox
closer
Bobby Jenks
are now officially locked in a war of words.
It all started when Jenks fired the following shot, via the
Chicago Tribune
:
"A lot of the stuff with Ozzie [Guillen] and the front office gets old. It has been a problem for a long time. It was a problem before last year ... It's going to be nice for me to see how things are done here."
He's referring to being a member of the
Red Sox
. But that's beside the point. When reading something like this, the natural reaction for any baseball fan is sheer joy. You know Ozzie can't ignore it. There's no way.
And, thankfully, he didn't. Just check out
Mark Gonzales' Twitter feed
(he's the Sox beat writer for the Trib).
Some highlights ...
"He did a lot of bad things last year. We lied for him. We [protected] him."
"It's very sad because he knows I can easily, easily kill this kid in the paper. He's not going to win."
"I can make a book out of this kid."
And my personal favorite:
"We don't miss him. Ask 30 guys out there. By the way, I was asking for his number to talk to him about it, and nobody had his number."
I believe I speak for at least 95 percent of the baseball fans out there: Please, White Sox brass, never, ever fire Ozzie Guillen.
Update:
There's a bit more in the
Chicago Tribune
now, including Guillen saying he could rip Jenks' throat out.
For more baseball news, rumors and analysis, follow @cbssportsmlb on Twitter or subscribe to the RSS feed.