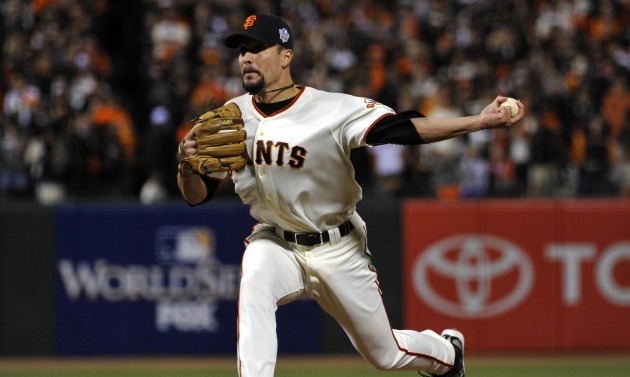 By Evan Brunell
Warning: far too many words are about to be typed in regards to lefty specialists.
As part of Nick Cafardo's weekly Sunday Notes section in the Boston Globe, the longtime reporter writes that "The Red Sox can only hope that Rich Hill, with his new sidearm delivery, is as effective as [Javier] Lopez was for the Giants last season. ... Lopez is proof how valuable a tough lefty specialist is, offsetting the biggest lefthanded bats at the most crucial times."
There's certainly no doubting that an effective lefthanded specialist can serve a major purpose, especially when it comes time for the postseason. But to emerge with a left-handed specialist takes a healthy dose of luck and constant failures on the pitcher's end -- and given how lefty specialists need to be limited in their exposure to right-handed batters, their impact on the regular season is fairly minimal.
Take Lopez, for example. Lopez (pictured) washed out of the Red Sox system after four years pitching primarily at the major league level and largely functioned as a lefty specialist, otherwise known as LOOGY -- Lefty One Out GuY. While Lopez equipped himself ably in that role, he was never the lockdown specialist on display last October. In fact, such specialists tend to come and go, with failed histories as a starter and reliever in their past.
This makes sense, as the best possible position one can be in as a pitcher is as starting pitcher. The vast majority of pitchers drafted that climb the ladder are pitchers, and many relievers in the game today have minor- or college-level experience as a starter. Only fairly recently has relief become specialized both in and outside professional baseball thanks to the increased emphasis on a bullpen, but the general rule of thumb of relievers being failed starters still holds true.
Much in the same vein, relievers are tasked with getting multiple batters out, no matter the handedness. But even that is problematic for lefty specialists, who tend to bounce around from team to team or have one glaring deficiency that is masked by being an effective LOOGY. Take J.C. Romero, for example. Romero came up as a middle reliever with the Twins but near the end of his tenure had disintegrated. He joined the Red Sox but was hurriedly released after 23 games and since has settled in as a LOOGY with the Phillies. Problem: Romero walks batters at an obscene amount. Even his 5.1 BB/9 as a career mark doesn't do it justice; over the last two seasons, Romero has appeared in 81 games of 53 1/3 innings, walking 42 (7.1 BB/9) and striking out 40 (6.8 K/9). These are simply awful numbers that wouldn't fly in the majors or minors in any other capacity other than a lefty specialist.
Other LOOGYs have similar problems: some have no control (Will Ohman), some can't strike out anyone (Joe Beimel), some have seen their ability regress due to age (Arthur Rhodes) or injury (George Sherrill) and some just can't get it done against righties, period (Randy Choate). (Did you notice that all of these names have bounced around the majors and have previous histories as starters and/or effective relievers?) And yet, they're still hanging around pulling in millions of dollars. That's because they get left-handed hitters out effectively.
Back to Lopez. While in Boston, the club tried to make Lopez effective against batters from both sides of the plate. He succeeded in some aspects, proving to get timely double plays, but for the most part ended up with egg on his face. The Red Sox gave up and opted not to bring him back for 2010, so Lopez signed with the Pirates before later being traded to the Giants. And Boston is a team that values left-handed relievers to a point they strive to carry two every year, one with a specific task of getting lefties out. Yet, on a grand scale, the Red Sox have no patience for LOOGYs. Even as Mike Myers was befuddling Hideki Matsui in the glory year of 2004, Boston was trying to find a way to get Myers to soak up more innings and eventually settled on him as mopup man.
That's because LOOGYs just don't pitch enough innings over the course of a full season to make it worthwhile. Sure, a late-September matchup with a postseason spot on the line calls for a LOOGY. And where would the Giants be without Lopez's 1-for-18 showing against Ryan Howard and Chase Utley in the NLCS?
But lefty specialists are very much so a job for the postseason, not the regular season. Most lefty specialists struggle to crack 50 innings pitched, and a fair amound settle in around 30-40 innings pitched a year. To put this in context, someone who satisfies the rule required to earn a quality start (six innings pitched and no more than three earned runs for an ERA of 4.50) will reach 30 innings pitched before the end of April. Myers is perhaps the poster-boy for LOOGYs here, pitching just 30 2/3 innings for the Yankees in 2006 despite making 62 appearances. (The year before, in his final stint with Boston, Myers pitched 37 1/3 innings in 65 appearances.)
That's simply not enough innings to help the entire pitching corps slog through the dog days. But once the bright lights turn on and every baseball game is on national TV, getting a left-handed hitter out can mean the difference between a World Series ring and heartbreak.
So how to best approach the conundrum of needing a lefty specialist during September and October but not prior? Well, the simple answer is to get a left-handed reliever that is good no matter who steps to the plate. But even then, having just one of these pitchers can be problematic. The White Sox have Matt Thornton, but signed Ohman as lefty specialist while Sherrill joined the Braves despite the presence of Johnny Venters. Why? Because skippers need these lefties to pitch later in games -- the 8th, the 9th -- as actual setup men and closers. LOOGYs, meanwhile, can be deployed much earlier for one batter in the 6th or 7th -- even the 8th, pushing back the arrival of better lefties to the ninth inning. But not a one wouldn't take a lefty that can get batters out regardless of handedness over a LOOGY. In fact, the Red Sox are hoping Rich Hill can be their lefty specialist -- but they would love to be able to deploy Hill against right-handers as well and have stated they will not pick a lefty specialist over a right-handed reliever if the latter is the better pitcher.
The answer, then, likely lies in simply acquiring these assets as the season goes on. Lefty specialists grow on trees: they're available on waiver wires all year long, can be plucked from a down-and-out team at minimal cost, promoted from the minors, cajoled out of quasi-retirement... finding a LOOGY is not difficult. After all, they washed out as a starter and as a reliever -- and some even washed out as LOOGYs. Finding one is not the issue. So why carry one which limits your bullpen and provides minimal impact until later in the season? Yes, a game in April counts just as much as a game in September, but what of bullpens that gets burned out during one particularly long game and then can't stand up to the task of winning a game the next day? (It should be noted, however, that in games after the sixth inning with one or zero runs separating both teams, a lefty specialist is important, especially with teams that have poor offenses. It's certainly not being said that lefty specialists don't have their place -- they do. But at what cost?)
The Red Sox are a good example on how they approach acquiring assets that are important down the stretch without compromising the entire season. In 2004, the club acquired Dave Roberts to be its speed demon. In both 2007 and 2008, the BoSox imported left-handed hitters to come off the bench and provide a spark. In 2007, Bobby Kielty hit what was eventually the game-winning home run to sweep the World Series. In 2008, Mark Kotsay played in 10 of 11 possible postseason games as a starter, shoring up the first base offense and defense after Mike Lowell went down -- but he was acquired for other reasons, namely outfield depth and as a left-handed bat off the bench.
Oftentimes, World Series are won by the shrewd acquisition of average players that fill a specific need. Many times, these needs don't become readily apparent to a team until the season starts, but other times, these needs are known beforehand and will be addressed during the season. Lefty specialists are one of these needs that don't need immediate addressing to start the season, especially if only contributing 30 innings a season.
For more baseball news, rumors and analysis, follow @cbssportsmlb on Twitter or subscribe to the RSS feed.