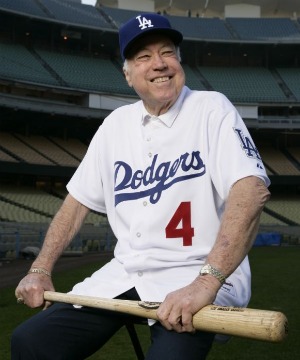 By Evan Brunell
Hall of Famer Duke Snider has passed away at age 84, the Baseball Hall of Fame revealed Sunday. Snider was battling an undisclosed illness at the Valle Vista Convalescent Hospital in Escondido, Calif.
"Duke was not only a great player but he was a great person too," said Hall of Fame Dodgers manager Tommy Lasorda, who had cups of coffee with the 1954-55 Dodgers and thus had Snider for a teammate. "He loved his family and loved the Dodgers. He was the true Dodger and represented the Dodgers to the highest degree of class, dignity and character. He was my teammate and friend, and I will really miss him."
The "Silver Fox," as he was known -- along with "Duke of Flatbush" -- spent 16 years with the Dodgers, the final five out west in Los Angeles. He signed with the club as a 17-year-old, had a brief career in the minors and the Navy, then began his Hall of Fame career. Snider would end up with 407 total home runs, all but 18 with the Dodgers. Snider spent his penultimate season back in New York with the Mets during their brutal 51-111 campaign in 1963 as the center fielder struggled to career-worst numbers for the season. He returned to California the next year, earning 167 at-bats for San Francisco. A major part of his career was chronicled in Roger Kahn's iconic book about the Brooklyn Dodgers, Boys of Summer .
In his heyday, Snider was a feared hitter. He had five consecutive seasons of at least 40 home runs -- nine straight of at least 20 -- leading the NL with 43 in 1956, along with OBP and slugging percentage. His home-run streak began at age 22 after two years of apprenticeship. Snider was left off the World Series roster in his rookie season of 1947 and was then demoted to the minors in May of 1958 after he kicked the season off with a .158 batting average. Then-GM Branch Rickey challenged Snider to force Rickey's hand in bringing him back to town. In early August 1948, Rickey had seen enough, as Snider told Dodgers Magazine .
"After the doubleheader, he came into the clubhouse and said, 'You played very well tonight,'" Snider recalled. "I said, 'Thank you, Mister Rickey. Don't you think the numbers I put up are enough to make you call me back?' He said, 'I'm glad you brought that up because I want you to pack your uniform, catch tomorrow morning's plane and fly to Brooklyn. You're my center fielder tomorrow night in Brooklyn.' My mouth flew open, of course. Everybody heard it and went over and congratulated me. I went there and became the regular center fielder."
From that point on, Snider was simply great. While an MVP award proved elusive, Snider finished second in voting in 1955 when he hit .309/.418/.628 with 42 blasts and 136 RBI. He finished second to teammate Roy Campanella by just five points and could have very well won the entire thing. According to Wikipedia , Snider's Duke of Flatbush book details the story of an ill baseball writer from Philadelphia who submitted his ballot with Campanella both at No. 1 and No. 5. It is felt the writer intended to write Snider into one of these places. However, the Baseball Writers Association of America decided to keep Campanella at No. 1 and count the No. 5 spot as a blank ballot. Even inserting Snider into the fifth spot would have been enough to edge Campanella. Despite that, Snider helped the Dodgers win a World Series -- but not before a bad experience in the 1949 World Series when Brooklyn lost to the Yankees. Snider struck out eight times in five games, tying a World Series record.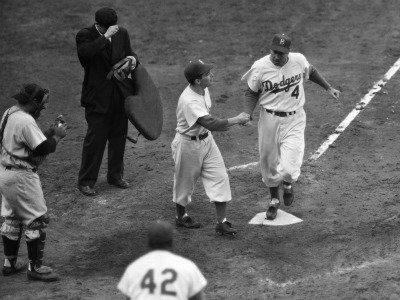 But Snider was no stranger to postseason greatness, winning the pennant six times and bashing 11 World Series home runs, four in both 1952 (another loss to the Yankees) and 1955. (Photo, right, shows Snider crossing the plate on his second home run.) His 11 home runs remain the most any NL player has ever hit in the Fall Classic. He would also earn another World Series ring in 1959 in the Dodgers' second season out west. His legacy marches on as he remains franchise leader in home runs (389), RBI (1,271) and led baseball in these categories during the entire decade of the 1950s.
Commissioner Bud Selig, who was 21 at the time of Snider's World Series victory in 1955, released a statement that called Snider "a key player during a special era in baseball, joining Willie Mays and Mickey Mantle to form New York City's unparalleled triumvirate of center fielders - Willie, Mickey and The Duke. Then the Los Angeles native went home and helped usher in a new part of baseball history with great class. I have many fond memories of watching Duke play, and I will be forever grateful for getting to know him well in the ensuing years."
"We shed a tear in Cooperstown for the man affectionately tabbed by his fans, 'The Duke of Flatbush,' " added Jeff Idelson, president of the National Baseball Hall of Fame and Museum. "There was no one classier or more easy going than Duke Snider. He was nationally renowned for his smooth fielding and powerful bat -- as evidenced by hitting more home runs in the 1950s than anyone else. He is still today revered by Brooklynites everywhere for patrolling center field in Ebbets Field with grace and dignity, leading the underdog Dodgers to five pennants and their only World Series title in New York, in 1955. Above it all, he was a fan favorite for his style of play, personality, accessibility, and fondness for playing stickball with kids in the street of Brooklyn."
Snider's legacy is intact, as he was inducted into the Hall of Fame in 1980 on his 11th ballot. His No. 4 was retired in a stirring ceremony in 1980, when both DiMaggio and Mays accompanied him.
"He was an extremely gifted talent and his defensive abilities were often overlooked because of playing in a small ballpark, Ebbets Field," Dodgers broadcaster Vin Scully said. Scully began his broadcasting career with Brooklyn in 1950, Snider's second year as a full-time player. "When he had a chance to run and move defensively, he had the grace and the abilities of [Joe] DiMaggio and [Willie] Mays and of course, he was a World Series hero that will forever be remembered in the borough of Brooklyn. Although it's ironic to say it, we have lost a giant."
For more baseball news, rumors and analysis, follow @cbssportsmlb on Twitter or subscribe to the RSS feed.