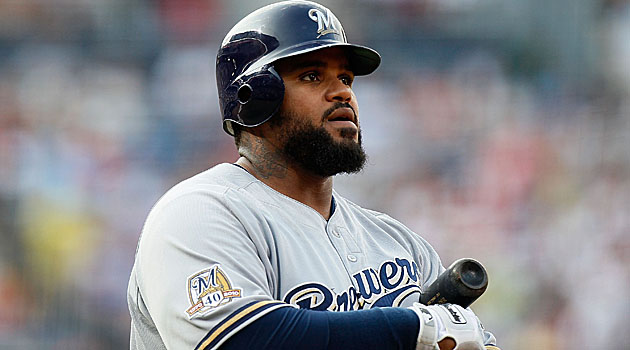 Posted by Matt Snyder
For years we've seen teams shift their defense greatly toward the right side of the infield for left-handed sluggers like
Ryan Howard
,
Adam Dunn
,
Jim Thome
and
Prince Fielder
. Just as often, you'll hear someone -- be it a fan, blogger or announcer -- mention the hitter at bat should drop a bunt down the third base line. If placed properly, it should be an easy base hit. Yet we rarely see the sluggers actually try it.
This year could be different for Fielder. In fact, he successfully did it Sunday during an intrasquad game.
"They've always encouraged it, I've always been a little stubborn," Fielder told MLB.com. "I've given it a half [hearted] try, maybe. Not that I'm going to be [former big league speedster] Brett Butler, but why not? ... Especially against a tough pitcher. When you have a tough pitcher on the mound, and you have a shift, and you smoke a ball to the right side, you get defeated at times. If I can help the team, I might try [bunting] a couple of times."
The 26 year old also noted he's been getting help on his bunting from speedster
Carlos Gomez
. (
MLB.com
)

EXTENDED POWER OUTAGE:
James Loney
hit 15 homers in 344 at-bats in 2007. Since he took over as the everyday first baseman for the
Dodgers
, however, his home run power has disappeared. In the three following seasons, he's hit 36 home runs in 1,759 at-bats, and never more than 13 in a season. He actually regressed back to 10 last season. The
Los Angeles Times
notes manager Don Mattingley is not going to push Loney to hit more longballs, but Loney himself wants to. He's even slightly altered his swing and put in some extra work with hitting coach Jeff Pentland in order to increase his power. (
LA Times
)
HE'S BACK ... AGAIN:
Josh Beckett
was good in 2005, bad in 2006, outstanding in 2007, mediocre in 2008, great in 2009 and awful last season. So, if the pattern is to be followed, we're looking at a lights-out season from the 30 year old -- yes, he's still only 30, though it feels like he's been around forever. Early reports from spring training show Beckett as being determined as ever this season. It's a pretty good bet he's going to have a great year. (
MLB.com
)
CONFLICTING REPORTS:
Adrian Beltre
has gone down with a calf injury. Early indications were that he would miss around two weeks, but then there were some reports saying it would be much longer than that, even up to month -- which would have put the start of the regular season in jeopardy. Those reports are false, he says. The third baseman also said he'd be playing through the pain if it was the regular season. (
Star-Telegram
)
THREE HOLE:
Adam Dunn has prodominantly hit fourth or fifth in his major league career. Over 4,000 of his roughly 6,000 plate appearances from come from those two spots. He's only garnered 689 at-bats from the three spot, but that is where Ozzie Guillen will be hitting him for the
White Sox
. Here's why I like it: Dunn is one of the most consistent power hitters in baseball. He's hit at least 38 home runs in each of the past seven seasons. People may have been reluctant to hit him third in the past due to his high number of strikeouts or low batting average, but his OBP over those past seven seasons is .381. He's patient enough to take pitches, and with a cleanup hitter behind him, there won't be tons of bad ones to avoid. In a launching pad like U.S. Cellular Field, that's huge. Look for him to challenge his career high (46) in bombs. (
Chicago Sun-Times
)
ZOOMIN' AGAIN:
Joel Zumaya
has had a rough time keeping his dynamic throwing arm healthy, including last season when a fractured elbow ended everything in late June. He was able to throw a scoreless inning Sunday and says he feels "great." That's music to the ears of baseball fans everywhere, because it's quite exciting to see Zumaya light up the radar gun and incredibly sickening to see how often his arm cries uncle. Hopefully that doesn't happen again anytime soon. (
Detroit Free Press
)
VALENTINE'S DAY:
We all know the
Mets
(and Dodgers, but that's a different conversation) ownership situation is a mess. In a bit of a surprise, former manager Bobby Valentine is reportedly looking into buying a stake of the Mets. The team is looking to sell up to a quarter of the ownership, so Valentine's stake would certainly not be a majority, but it would still be quite the popular move among Mets fans -- many of whom still love the man. (
ESPN New York
)
ARIZONA COVETS YOUNG:
Michael Young
has not withdrawn his request to be traded, but he's not talking about it either. So it's still a possibility the
Rangers
retain his services -- especially if the spring injury to Beltre is an eye-opener as to Young's value. But there are still a few teams after the All-Star. The
Rockies
, Dodgers and
Marlins
have previously shown interest and we can now add the
Diamondbacks
to the mix. Young would be a good fit there, as the DBacks only have
Melvin Mora
at the hot corner. Of course, the Backs would need some financial help and Young's OK to get the deal done. (
FOXSports
)
For more baseball news, rumors and analysis, follow
@cbssportsmlb
on Twitter or subscribe to the
RSS feed.