By C. Trent Rosecrans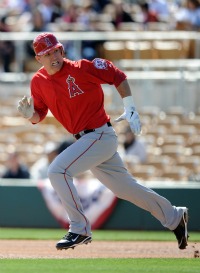 Spring training offers the combination of preseason hype, unlimited time and the lack of pressure that allows teams to not only bond, but also to plan pranks.
The higher profile and younger the player, the bigger the target -- making Mike Trout an easy choice for veteran players. The 19-year-old outfielder is considered by most either the No. 1 or No. 2 prospect in all of baseball, along with Washington's Bryce Harper.
Angels veterans organized a surprise giveaway for fans at Tempe Diablo Stadium on Monday. Everyone in attendance received Trout's cell phone number.
Several times dung the game with the A's, the scoreboard showed Trout's phone number with the message -- "Fans call Angels' Mike Trout directly with your baseball questions," the Orange County Register reported.
Apparently Trout violated a the "speak-only-when-spoken-to" rule in a Monday-morning meeting.
"I deserved it, so I knew it was coming," Trout told reporters after the game.
The perpetrator was Jered Weaver, teammates tattled.
"I told [Weaver], 'Why'd you do it today?'" said Peter Bourjos, referring to the game with the A's that drew just 2,822 fans. "Do it when we're playing the Cubs."
Although Trout likely had a plenty of messages after the game, the phone number will promptly be changed, Trout said.
For more baseball news, rumors and analysis, follow @cbssportsmlb on Twitter or subscribe to the RSS feed.