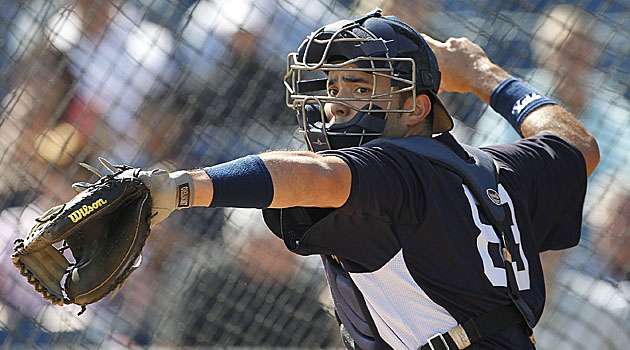 Posted by Matt Snyder
In the latest
Ear on Baseball podcast
, C. Trent Rosecrans and I had Baseball Prospectus' Kevin Goldstein on, and among other things we discussed how
Yankees
star catching prospect
Jesus Montero
may eventually be ticketed for a position change.
Interestingly, in a Tuesday morning Bats blog (via
New York Times
), there's a piece on
Joe Mauer
discussing similarities between the two catchers and how he believes Montero should do everything he can to remain a catcher, if that's what he wants to do.
"Too big. Not quick enough. I heard everything under the sun," Mauer said. He's 6-foot-5, while Montero is 6-foot-4.
Mauer also encouraged Montero to learn everything he can from veteran catchers
Russell Martin
and
Jorge Posada
in camp, and to learn everything about the pitchers he might be catching.
Montero, 21, is generally considered one of the top prospects as a hitter, but many scouts believe he'll be inadequate behind the plate in the bigs. Mauer believes he heard the same, but I think there's a difference. Most scouts knew Mauer could handle duties behind the plate, if memory serves correctly, it's just that many believe he needs to move away from behind the plate eventually in order to lengthen his career. He's too good a hitter to physically fall apart by his early 30s. That doesn't mean he's a bad defender.
CARLOS AT THE BAT:
Yes,
Cubs
manager Mike Quade will use pitcher
Carlos Zambrano
as a pinch-hitter when the game dictates this season. While his actual skill with the stick pales in comparison to the sheer entertainment value of an at-bat, he can swing it. He has three Silver Sluggers and 21 career home runs to go with a .236 average and .631 OPS. Obviously that's pretty bad for an actual hitter, but if you're looking for someone to extend the bench, he's serviceable enough. In fact, he's hit at least .300 in a season twice, as recently as 2008 -- when he hit .337 with an .892 OPS. He was a better hitter than
Derrek Lee
that year. Seriously. (
Chicago Tribune
)

ZITO VS. PRINCE, PART II:
Last season,
Barry Zito
and
Prince Fielder
had a slight flare-up in spring training after Zito plunked the portly first baseman -- in retaliation for a Fielder celebration in 2009. Monday, the two had a spat ... over a walk? Really, guys? They were seen jawing at each other, but fortunately both took the high road after the game. Zito said he asked Fielder how his offseason went and how his family was doing. Fielder said they were discussing dinner plans. Boys will be boys, even when it's not yet summer, so there's no reason to make a mountain out of a molehill. (
Milwaukee Journal-Sentinel
)
OBLIGATORY YOUNG UPDATE:
Michael Young
is not unhappy, nor is he dogging it in spring training. In fact, he's working just as hard as he ever has and made the first appearance of his life at first base Monday. He even accepts the addition of
Mike Napoli
, who is expected to steal plenty of at-bats from Young at DH this season. "He was a thorn in our side when he was in Anaheim. He can hit for power," Young said. "I think what he's done in his career speaks for itself. When he got here in camp I think we've all been impressed with just how good a teammate he seems. That's the kind of thing guys look at first. He seems a really good guy. Seems like he's fit in really well since Day 1 and I'm excited that he's here." (
ESPN Dallas
)
SCHLERETH INJURED:
Tigers
relief pitcher
Daniel Schlereth
injured his hamstring Monday. He actually felt a pop, but early the prognosis sounds positive, as the medical staff reportedly told the lefty it was a strain and not a tear -- which would cause him to miss significant time. Instead, it seems only a minor setback. In fact, he's more annoyed with the injury than anything else. "This is stupid," he said. "This isn't important. I'm not too worried about it. I just want to play. I want to make the team." (
Detroit Free-Press
)
TIME MACHINE:
Mark Prior
threw a perfect inning. In 2011. Granted, it was a single inning early in spring training, but it had to have been an encouraging outing for a man whose career was prematurely derailed years ago by injuries. For the optimistic out there, he's still only 30. There's time. (
Star-Ledger
)
WHO NEEDS OBP?
The
Rockies
are ready to use catcher
Chris Iannetta
in the eight-hole this season. When you look at his batting average (.234) last season it makes sense. When you look at his OBP, it doesn't. His .353 career OBP is better than teammates
Seth Smith
,
Ian Stewart
,
Dexter Fowler
and
Ty Wigginton
. But his batting average is lower. It still amazes me how hard this concept is to grasp for so many. It astounds me that people look at batting average before OBP. Think about it in reverse. On-base percentage is a measure of how many times you don't get out. Isn't that the actual goal when you step in the batter's box? In this specific case, you could argue Fowler and Stewart are still young and could get better, but Iannetta's 27 and has torn up minor-league pitching for years. And when he takes a ton of walks this season with the pitcher on deck, his batting average won't be near as high as his OBP. Serenity now. (
Denver Post
)

SOLID INTERVIEW:
Another thing we discussed in the Ear on Baseball podcast was how incredibly loaded the
Royals
' minor league system is. General manager Dayton Moore sat down with John Sickels of
Minor League Ball
for an interview. I'm not going to bother to summarize or cut it down at all, just click through. The whole thing is worth a look. And while I'm not a fan of the Royals or anything, it's worth noting I'd like to see everything come to fruition with this group. It's been a long time since the Royals were a serious contender, so a little change there wouldn't hurt anything. Now, about those
Pirates
...
For more baseball news, rumors and analysis, follow @cbssportsmlb on Twitter or subscribe to the RSS feed.