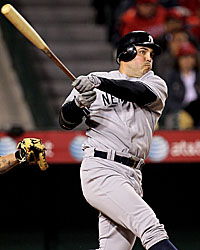 By Matt Snyder
In case you missed the news yesterday,
Nick Johnson
is on the verge of signing a minor-league contract with the
Indians
(Twitter links contained via
MLB Trade Rumors
). And if you did miss it, shame on you. How dare you not follow every move of Nick Johnson. This is clearly the most monumental signing of the offseason.
I kid, I kid.
Still, the move is at least intriguing enough to see where he might fit with the Tribe, should he join the big league club at some point -- and stay healthy for an extended stretch, which is a huge "if."
The reason for this is
Matt LaPorta
is expected to play first base for the Indians this season while
Travis Hafner
is slotted as the designated hitter. Johnson can't fit anywhere else.
Now, obviously the Tribe only took a flier on Johnson to see if it would pan out. It's a minor-league contract, after all, so there is no risk or obligation. But let's say all three aforementioned players stay healthy and hit the ball like they're capable.
LaPorta, 26, was the centerpiece of the
CC Sabathia
trade. Even if his development hasn't come as fast as expected, someone with his potential isn't going anywhere, especially for a team not expected to contend.
Hafner was one of the best hitters in baseball from 2004-2006 -- and still pretty solid in 2007 -- but injuries have derailed that a bit. He had a 131 OPS-plus in 462 plate appearances last season, so we know he can still swing it. He's just averaged 90 games a year over the past three, though, so this could be where Johnson comes into play.
Say what you will about his health, but Johnson sports a career .401 OBP. If he battles all the way the back to 100 percent health, there should be a spot on a major-league roster for him. At 32, he's definitely not too old to be productive.
Again, this was a move with very minimal risk. If Johnson ends up injured and worthless, it doesn't harm the Tribe at all.
If he's healthy and swinging the bat well, he can be the insurance policy for the oft-injured Pronk.
But what if both are healthy and swinging the bat well? This could actually be where Indians management is really looking. Both guys are left-handed, so they are redundant to the roster -- therefore: Trade. Bait.
Travis Hafner is due to make $13 million in 2012, so he might be tough to move. Still, if a team suffers a serious injury and/or needs a big bat in the middle at the trade deadline, it isn't inconceivable to see a move. Let's just say the
Yankees
deal
Jesus Montero
in a desperate attempt to nab a top-line starting pitcher and then
Jorge Posada
suffers a season-ending injury -- it's not out of the question on either front. If that was the case, Pronk in pinstrips for the last two months of 2011 and all of 2012 makes some sense, especially with that short right-field porch. It would be a win-win deal.
And if they couldn't deal Hafner, they could get a something for Johnson. He wouldn't be as attractive as Hafner, but he'd come without the lofty price tag.
Anyway, that's all a long way from now and both Johnson and Hafner would have to be healthy. Just something to think about as we wait for meaningful baseball to be played.
For more baseball news, rumors and analysis, follow @cbssportsmlb on Twitter or subscribe to the RSS feed.