Posted by C. Trent Rosecrans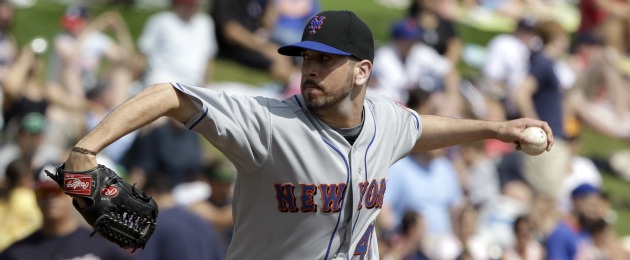 For most established big leaguers, it's beyond idiotic to put much stock in many spring training results -- nobody's a star or scrub based solely on a game in the first week of March -- but
Oliver Perez
isn't the typical case.
The Mets pitcher has been hanging on to his roster spot by a three-year, $36-million thread for a while. In the last year of his ridiculous contract, the left-hander may be released if he "does not show significant improvement over Sunday's two-inning, four-run disappointment" today against the Cardinals, the New York Daily News' Andy Martino writes, citing two "major league sources familiar with the Mets' thinking."
Sunday, Perez was throwing an 84 mph fastball and struggled with his command. He was initially slated as a reliever for today's game, but he will instead start.
Manager Terry Collins said, "I'm quite sure he'll have another try after [Thursday]." But Martino says that may not be the case.
Since signing his big deal (any guess who his agent is?), Perez has gone 3-9 with a 6.81 ERA in 31 games. He made 14 starts in 2009 and seven last season before being put in the bullpen. He didn't pitch at all in June, and pitched just two games in August -- on the first day of the month and the next-to-last day of the month, and just one day in September.
There was talk the Mets would release him after the season, but they gave him one last try -- and that very last try could come today.
SPEAKING OF ALBATROSS CONTRACTS: Bruce Bochy told reporters Wednesday that Barry Zito's spot in the Giants' rotation is secure, despite a San Francisco Chronicle column citing a "source close to the team" as saying his job isn't safe.
General manager Brian Sabean also denied the story was a plant.
"Absolutely, unequivocally not," Sabean told Andrew Baggarly of the San Jose Mercury News. "We have too much respect for players, and more so, I have a great relationship with Barry Zito. If things had gotten to that point, I would have talked to him directly, firsthand."
Zito walked five of the 13 batters he faced in his spring opener on Monday.
A.J. Burnett DOESN'T SUCK? So says, FOXSports.com's Ken Rosenthal.
In fact, Rosenthal points out the much-maligned Yankees' career numbers are pretty darn close to those of Boston's Josh Beckett, another former Marlin. The numbers Rosenthal uses are indeed close -- Burnett is 110-100 with a 3.99 ERA and an opponents' OPS of .701 in his career, while Beckett is 112-74, with a 3.96 ERA and .708 opponents' OPS.
The secret for Burnett to be successful, Rosenthal writes, is for Burnett to believe he can be successful. The Yankees certainly hope that's true.
WHO ISN'T? Speaking of disappointing Red Sox pitchers… John Lackey is "just tired" of talking about his 2010 season, he tells WEEI.com's Rob Bradford.
If I got $18 million to put up a 4.40 ERA. In his first season since coming over from the Angels, Lackey made 33 starts and put up a 14-11 record.
IT'S THE MONEY, STUPID: It's going to be difficult for either Dustin Ackley or Michael Pineda break camp with the Mariners, even if they earn a spot in spring, Larry Stone of the Seattle Times writes, because of the possible Super 2 status.
The Mariners may have to guess when to bring up their talented rookies in hope of not allowing them to reach arbitration eligibility early. To be safe, now most teams wait until June to bring up a heralded prospect. Remember Buster Posey? He was called up to stay last year on May 29.
Recently teams have guessed on when the Super 2 cutoff date would occur and lost on Tim Lincecum (2007) and Jay Bruce (2008) falling before the cutoff date. Teams worried about payroll, like the Mariners, are unlikely to take a gamble.

CITIZEN CATCHER: Congratulations to Reds catcher Ramon Hernandez, who took a couple of days off from Cincinnati's camp to go to Fort Lauderdale, Fla., to take his United State citizenship test. Hernandez passed the test on Tuesday and will be sworn in at a later date.
"I already live here and I have my life here," Hernandez, a native of Venezuela, told Mark Sheldon of MLB.com. "My kids are U.S. citizens and my wife is a U.S. citizen. I'm the only one left. I feel like I've got to do it because I live here."
Hernandez celebrated with a double against the White Sox on Wednesday.
A PITCHER'S BEST FRIEND: A physicist writes an article on Baseball Prospectus stating that if the Diamondbacks used a humidor at Chase Field, they'd see a 37 percent drop in home runs. (Hat tip to Nick Piecoro of the Arizona Republic)
THOSE AREN'T PILLOWS: The Planes, Trains and Automobiles worthy story of Mike Napoli's journey from the Angels to the Blue Jays to the Rangers from the Orange County Register's Bill Plunkett.
SOMEONE IS INTERESTED IN THE METS: A group that includes Rays minority owner Randy Frankel and Entourage creator Doug Ellin, is interested in buying a share of the Mets, the New York Times reports.
Frankel would have to sell his share of the Rays, if approved.
THE DOCTOR IS AN IN-PATIENT: While the NFL seems to have someone on every Dancing With the Stars incarnation, MLB will be represented on Celebrity Rehab by former Mets ace Dwight Gooden.
Gooden, 46, will join Lindsay Lohan's dad and the kid from Baywatch on Dr. Drew's show, TMZ.com reports.
MMMM… GRAVY: A flow chart telling you which Major League Baseball team you should root for.
ANIMAL STYLE: For those non-Californians heading out to spring training in Arizona, here's a little help when it comes to the culinary hotspot that is In-N-Out. You've heard of the secret menu? Here's a look at every "secret" item on the menu.
For more baseball news, rumors and analysis, follow @cbssportsmlb on Twitter or subscribe to the RSS feed.