By C. Trent Rosecrans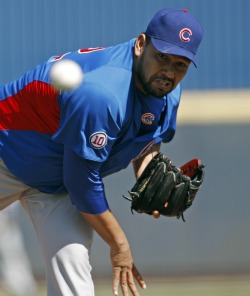 Two days after his dugout scuffle with Aramis Ramirez, Carlos Silva gave his side to reporters on Friday.
Silva said he was unaware the team had made nine errors in their first three games even before the three the team committed in the first inning of Silva's start. Silva said he said the team needed to "start making plays" and Ramirez "took it personally."
From the Chicago Tribune:
"In spring training, it's a little harder because we don't watch every single game," Silva said. "I didn't even know my team had made that many errors, either. That was a very hard inning, not only for my team or for my coaches, but for me. I was trying to do something here, and I gave up those two homers, and I came to the dugout, I tried to take it easy, to relax, to let it go.

"The only thing I said was, 'We have to start making plays here.' He took it personally. I know it was my mistake. It was my fault because you don't say anything. But he took it personally and that's what happened. We argued in the dugout, and everything stayed there."
It's far from uncommon for starters to have no idea what's going on with a team as a whole in spring, especially this early.
Silva said he's apologized to Ramirez, but they haven't talked about it since.
Silva added, "I don't like to have problems with anyone, my teammates. That's the worst thing that can happen to you. You spend more time with these guys than your own family. That's the last thing I want. I never had any problems with my teammates."
For more baseball news, rumors and analysis, follow @cbssportsmlb on Twitter or subscribe to the RSS feed.