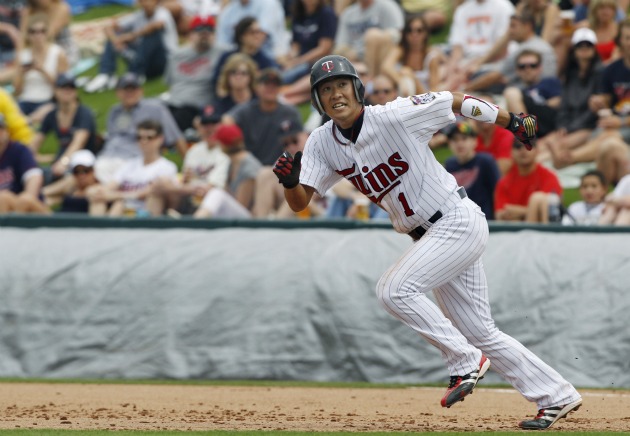 By C. Trent Rosecrans
3 UP
1. D.J. LeMahieu, Cubs. Yes, it's just spring training, but an extra-innings, pinch-hit, walk-off home run is always special. LeMahieu was the Cubs' second-round pick in the 2009 draft and had a solid 2010 in Class A Daytona, hitting .314/.346/.386 with 73 RBI and 15 stolen bases, playing second, third and short. LeMahieu had just two home runs as a pro, so this one may have been even more unlikely.
2. Tsuyoshi Nishioka, Twins. The newly-minted Twins second baseman went 2 for 3 with a triple and two RBI on Sunday against the Orioles. As impressive as his triple was, a third-inning hit-and-run got his manager's attention. With Alexi Casilla on first, Nishioka, batting left-handed, noticed the second baseman going to cover second and hit the ball in the vacated spot, allowing Casilla to advance to third.
3. Tim Lincecum, Giants. This skinny little kid for the Giants may end up being someone to watch. Lincecum was a little wild on Sunday, walking three and giving up three hits in 3 2/3 inning, but he also struck out seven batters.
3 DOWN
1. Mat Latos, Padres. I don't like to make much of early-March numbers, but after his outing on Sunday he went back to the dugout and fired his glove up against a wall. Latos allowed three runs on two hits and two walks before being lifted after just 2/3 of an inning, when he was scheduled to throw three. He struggled with his command, just 21 strikes among his 38 pitches. In his first start, he went just 1 1/3 innings and walked four batters, with 15 of his 34 pitches called strikes.
2. Mark Buehrle, White Sox. Buehrle was the first White Sox pitcher to go three innings this spring, yet it didn't do too well, allowing nine hits and five runs against the Royals on Sunday. It could have been worse -- the Gold Glover snared a Lorenzo Cain liner that appeared to be headed for a hit in the third inning, which was followed by a double.
3. Alcides Escobar, Royals. My mother always told me not to scratch bug bites or they'd get infected, and I never believed her. Sorry mom, you were right. The Royals shortstop was -- pardon the pun -- scratched from the team's lineup on Sunday following the infection of a bed bug on his right wrist. He'll miss Monday's split-squad games, but is expected back later this week.
For more baseball news, rumors and analysis, follow @cbssportsmlb on Twitter or subscribe to the RSS feed.