By C. Trent Rosecrans
One of the saddest career arcs we've seen in the last few years is that of Tigers' fireballer Joel Zumaya, who has dealt with a multitude of injuries since his debut in the big leagues in 2006.
As a 21-year old rookie, Zumaya was the Tigers' set-up man, coming in throwing 100 mph hour and blowing batters away. As a rookie, he went 6-3 with a 1.94 ERA with 97 strikeouts in 83 1/3 innings. He's thrown just 126 1/3 innings since then.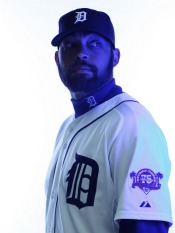 Since then, he's been beset by injuries, including last year's horrific elbow injury on the mound that cut short his best season since his rookie year.
This spring, he's been bothered by his surgically repaired elbow, appearing in just one game due to pain in the elbow and forearm soreness.
Tigers pitching coach Rick Knapp told MLive.com's Steve Kornacki that Zumaya recently had an MRI and was seen by doctors, but has yet another doctor's visit lined up. He would not say if that appointment was with Dr. James Andrews, who has worked on Zumaya's arm before.
"Nothing has shown up out of the ordinary on the tests," Knapp said. "He went full-bore and had discomfort. It's in the doctor's hands now.
"He's got hardware in his elbow and that can't be good. But plenty of guys have come back from it. Joel has that high-torque delivery that generates so much stress. It's an oddity. And when you suffer an injury, you always want to protect it."
Zumaya wouldn't answer questions about his injury, Kornacki writes.
The Tigers tendered Zumaya a contract this offseason in hopes he could stay healthy, but he has said in the past he'd consider retirement if he got hurt again. He is scheduled to make $1.4 million this season.
Earlier this spring he referred to himself as a "China Doll," and there's a sad truth to what was then meant as a joke. It seems the human body just isn't designed to do what Zumaya can do with a baseball, and sadly it may never be able to do it again, at least on a regular basis.
For more baseball news, rumors and analysis, follow @cbssportsmlb on Twitter or subscribe to the RSS feed.