By C. Trent Rosecrans
In what would have been an upset a couple of weeks ago, but was now a foregone conclusion, Brewers manager Ron Roenicke officially named Yovani Gallardo his opening day starter.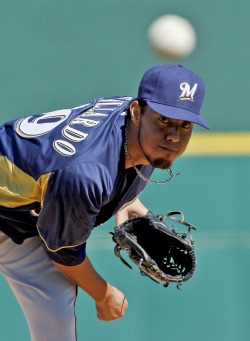 "With [Zack] Greinke and Gallardo, if you look at their last three years, they're both No. 1 [pitchers]," Roenicke told reporters Thursday morning (via the Milwaukee Journal Sentinel). "Gallardo is also our ace."
The Brewers will follow Gallardo, 25, with Shaun Marcum, Randy Wolf and Chris Narveson. The fifth starter spot is still undecided. Because of an off day in Cincinnati the day after the opener, the Brewers could have Gallardo pitch again on regular rest instead of using a fifth starter.
"We may wait and see what Yovani does in the opener," Roenicke said.
Narveson is scheduled to start the home opener on April 4 against the Braves.
While Gallardo doesn't have the name recognition of Greinke, he's a quality starter and has done plenty on his own to earn the opening day nod on his own merit. An All-Star last season, Gallardo started on opening day last season for the Brewers, going 14-7 on the season with a 3.84 ERA. He recorded 200 strikeouts in 185 innings. His xFIP (fielding independent pitching, normalized for park factors) last season was 3.42 last season. Greinke was 10-14 with a 4.17 ERA last season, along with an xFIP of 3.76.
Gallardo lost his opening day assignment last season, but was matched up against Ubaldo Jimenez of the Rockies. Gallardo did struggle last season against the Reds, going 0-2 with a 9.22 ERA in three starts against the NL Central champs. Greinke faced the Reds once and threw a complete-game five-hitter in a win.
Gallardo will face off against Cincinnati's Edinson Volquez in the opener at Great American Ball Park.
For more baseball news, rumors and analysis, follow @cbssportsmlb on Twitter or subscribe to the RSS feed.