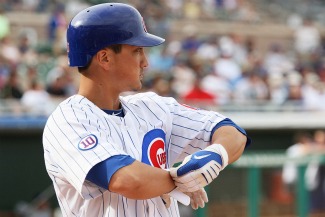 By Matt Snyder
Being March 10, the Chicago
Cubs
are honoring former great Ron Santo Thursday at their spring home. Players were given special hats with a No. 10 on them, a 10 emblem -- the same logo that will worn on the sleeves of Cubs' jerseys this season, pictured left on
Darwin Barney
's jersey -- is painted behind home plate and there will be ceremonies prior to the exhibition game honoring Santo.
The nine-time All-Star passed away this past offseason at the age of 70. While Santo was a fan favorite during his playing days, he had grown even more beloved in recent years as a color commentator for Cubs games on the radio. He made no bones about being a complete homer for the Cubs and wore his heart on his sleeve -- notably celebrating greatly the division championships and screaming "NOOOOOOO!" if something didn't go the Cubs way (like Brant Brown's dropped fly ball in 1998).
"I never needed to hear a score when I was in Iowa," Cubs manager Mike Quade told the
Chicago Tribune
. "Just turn the radio on after a game and listen to three words out of Ronnie's mouth, or three groans... I wasn't sure how bad we were losing, but I knew it wasn't good. And if he and Pat (Hughes) were having fun, then we were in good shape."
Interesting to note here, Major League Baseball didn't allow the Cubs to wear the hats with a "10" on them, because there was no MLB logo on them. Don't you always love with the professional sports leagues get so concerned about little things like this with the uniforms. It's one thing if it's a regular-season game -- because the "slippery slope" theory means you open yourself up to almost anything being acceptable -- but in spring training? C'mon. Who really cares?
Regardless, the day at HoHoKam Park was one die-hard Cubs fans would surely enjoy -- even if MLB had to step in and get strict.
UPDATE:
More quotes from Cubs' family members at the event (via
Chicago Tribune
):
"If you look in the dictionary and saw endurance and courage, the man, No. 10, Ron Santo, was right there," former teammate Fergie Jenkins said. "That's the kind of guy he was. The example he tried to prove on the field, as an individual, as a teammate, that was something that will never, never ever be forgotten. Ronnie was a great individual, a great friend."
"Ron Santo as a player was a pain in the fanny. But as he got out of the game of baseball and we got to know him a lot better, I absolutely loved the guy, and I told him every time I talked to him on the telephone or we played golf together that I loved him, and I still love him and I miss him very much," Randy Hundley added. "But I'm also glad that he does not have to suffer anymore with the bad legs he had."
For more baseball news, rumors and analysis, follow @cbssportsmlb on Twitter or subscribe to the RSS feed.