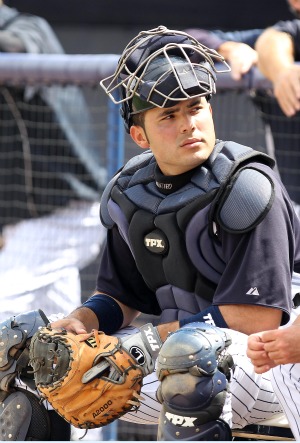 By Evan Brunell
Jesus Montero was receiving rave reviews for his defense in spring training as the CBSSports.com No. 4 prospect appears poised to capitalize on an opportunity to become the club's backup catcher. While Montero's future is as a slugging first baseman or DH, for now he's being asked to stick behind the dish especially with incumbent backup catcher Francisco Cervelli sidelined until May.
However, ESPN's Keith Law does not agree with the word out of Yankees camp that Montero's defense has improved, and that defense was on display Friday. Montero coughed up two wild pitches by Romulo Sanchez in the sixth, and skipper Joe Girardi indicated that at least one of the pitches -- a curveball -- was not due to being crossed up as the New York Post reports.
Montero (pictured) also dropped balls, showed limited mobility in blocking balls in the dirt and did not throw to second base well.
That's rather damning of the 21-year-old's defense and may crystallize that the club can't carry Montero as the backup. Girardi wants the backup to be defense-oriented, which Montero certainly isn't.
"[Montero] is a work in progress and there has been a lot thrown at him quickly," Girardi said. "To me, the defense has to come first. That's the first thing I told him. Not hitting in spring training, yeah, you want to see everyone swinging great when they leave spring training, but I don't get too caught up with his bat right now." Montero is currently hitting .136 in 22 at-bats with no extra-base hits.
Assuming Montero is ticketed for Triple-A, Austin Romine may leapfrog Montero to the majors by virtue of his defense. Romine's defense behind the plate isn't otherworldly either, but is at least good enough that he is considered to have a real shot at sticking behind the plate. But do the Yankees want to aggressively promote Romine all the way to the majors after hitting .268/.324/.402 in 497 plate appearances in Double-A last season? It seems unnecessary.
The club also has journeyman Gustavo Molina in camp, who would function just fine as a temporary backup, but it appears he is not being given significant consideration for the temporary job although that may change after Montero's showing.
One other option could be Chad Moeller, who left Rockies camp after it became clear to him he would not win the Rockies' backup job. Moeller is familiar to Yankees personnel after playing in nine games for New York last season. He also had a 41-game stint with the club back in 2008 before heading to Baltimore for 2009. Given Moeller's two stints with the Yankees, the club clearly feels comfortable with him and may opt to bring him in with the idea of giving him the job until Cervelli returns.
For more baseball news, rumors and analysis, follow @cbssportsmlb on Twitter or subscribe to the RSS feed.