By Evan Brunell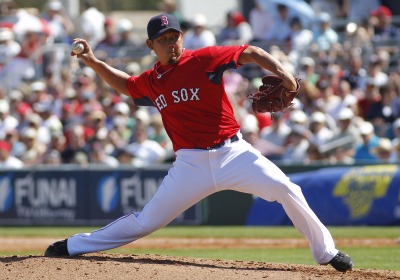 The Red Sox are busy making several players available for trade, reports Gordon Edes of ESPN Boston. Players thought to be available include right-handers Daisuke Matsuzaka (pictured) and Tim Wakefield along with outfielders Mike Cameron or Darnell McDonald and shortstop Marco Scutaro.
Out of these names, Matsuzaka is both the most well-known and also unlikeliest to be traded. After taking America by storm his first two seasons in town -- nabbing a ring in his rookie campaign back in 2007 -- Matsuzaka has struggled with injuries, integrating himself into the clubhouse and being completely ineffective as his 11.42 ERA in three spring training starts reveals.
"His rhythm was all out of whack,'' the source who indicated Dice-K was on the block said. "I don't know if it's because that's what the team wants, but I think he's become too much of a conventional pitcher. He's got to go back to pitching 'left-handed' again, dropping down at times, throwing from all kinds of angles, turning the ball over. He's not doing that as much.''
Matsuzaka has a full no-trade clause and is due $20 million over the next two seasons, making it difficult for a team to jump for Matsuzaka, no matter the talent that caused Boston to splurge for a $51.1 million posting fee just to talk to the Japanese phenom. However, there are enough teams in need of pitching and Matsuzaka's ace-caliber talents remain hidden somewhere in his body. It appears, though, that both Matsuzaka and the Red Sox are ready to move on, and Boston would do just that if they could add a young catcher to the team.
The Red Sox are set to go into the season with Jarrod Saltalamacchia starting with team captain Jason Varitek backing up. While the club has a few young catchers in the minors, they lack someone with a high ceiling. Despite Salty's pedigree, he has yet to put it all together in the majors and Boston would doubtless prefer to create more depth in the position.
One potential thought could be the Nationals, who have Wilson Ramos and Jesus Flores as young catchers. While Ramos is expected to open the year as backup catcher to Ivan Rodriguez and eventually supplant the Hall of Fame catcher, Flores is out of options. Flores is likely of little concern to Boston, who would prefer a player they can send to the minors and groom. Washington has such a catcher in Derek Norris, who was ranked as the No. 47 prospect in all of baseball by CBS Sports.
However, while the Nationals would love to stockpile quality pitching and could be intrigued by Matsuzaka, all the issues surrounding the 30-year-old and Norris' ceiling would make any such deal difficult to bridge unless Boston is willing to eat some salary.
If the Red Sox do move Matsuzaka, it would open up a hole in the rotation that could be filled by Tim Wakefield, reliever Alfredo Aceves or prospects Felix Doubront and Andrew Miller.
However, Wakefield is thought to be on the block himself despite stating he has no interest in playing for another team. Due just $1.5 million in 2011, the Red Sox could dangle the swingman for left-handed relief. The club has no shortage of left-handed relievers in camp vying for a job, but none are clear front-runners. If both Wakefield and Matsuzaka remain, the knuckleballer will pitch out of the bullpen.
Also available are backup outfielders Mike Cameron and Darnell McDonald. Cameron is due $7.25 million in the final year of a two-year deal. Slated to start in center for the Red Sox last season, injuries derailed his season and now have him set to be the No. 4 outfielder. McDonald, meanwhile, took advantage of all the playing time afforded him in the outfield last season to finally establish himself in the majors after being a minor-league journeyman. He's making the league minimum so is the more valuable outfielder from a cost perspective, although Cameron holds the edge on offense and defense, which he is renowned for.
The Red Sox do need right-handed outfielders to complement their all-lefty outfielder along with DH David Ortiz, also a lefty. Given right fielder J.D. Drew has a checkered injury past, there's plenty of playing time in store for Cameron and McDonald. One of them is being made available likely to fill more pressing holes, such as left-handed relief. In addition, both outfielders rake against left-handers and are effectively filling the same role.
Cameron and McDonald could draw interest from the Phillies, who have to deal with top prospect Domonic Brown (No. 3 on the Top 100 prospects list) fracturing his hamate bone and likely out for all of April. He appears ticketed for Triple-A after that given his poor start to spring training and newfound need to get at-bats. That opens up a gaping hole in right field for Philly, trying to withstand the loss of incumbent Jayson Werth while worrying about replacing the offense of second baseman Chase Utley, who is unlikely to begin the season with the team. Backup outfielder Ben Francisco is expected to win the starting role.
The Phillies already have a payroll in the mid-$160 million range and would like to avoid paying a payroll tax that would be incurred upon hitting $178 million, so while Cameron makes more sense to become the starter, McDonald appears the more cost-effective solution who could platoon with Francisco as well as fill in for Raul Ibanez in left field. The Red Sox would replace their backup outfield spot with one of Ryan Kalish, Josh Reddick or Daniel Nava.
Boston will also listen to offers on starting shortstop Marco Scutaro, who is in the final year of a two-year pact paying $5 million. He would be attractive to other teams given the price and ability to play second, short and third base, with a team option of $5 million for 2012 or a player option of $3 million. The Sox are able to listen to offers on Scutaro thanks to the play of backup Jed Lowrie, who has struggled with injuries the last few years but turned heads with his play late last season. The club also has heralded prospect Jose Iglesias (No. 36) who is widely considered Boston's shortstop of the future. While he could stand to cut his teeth a bit more in the minors with the bat, it wouldn't be outrageous for Boston to promote him.
For more baseball news, rumors and analysis, follow @cbssportsmlb on Twitter or subscribe to the RSS feed.