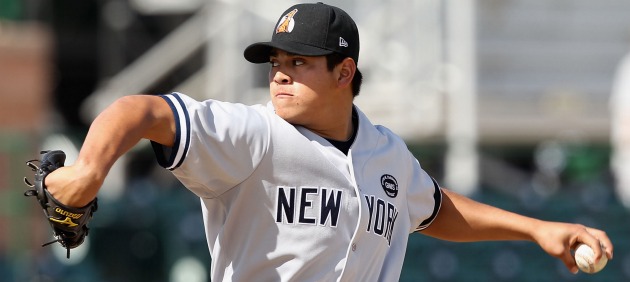 By C. Trent Rosecrans
Despite the franchise's reputation as a mercenary of sort, the Yankees have shown a propensity to hold on to some of their top prospects under general manager Brian Cashman.
Joba Chamberlain, Phil Hughes and even Jesus Montero have been kept instead of dealt in blockbuster deals for veteran players the past couple of years. That strategy is unlikely to change, even though the Yankees would like to upgrade their rotation.
"I have enough [trade] chips," Cashman told Marc Carig of the Star-Ledger. "But if people want to demand certain bullets, those certain bullets I'm not going to shoot. … There are untouchables here."
When asked if the team's young pitchers are those untouchables, Cashman didn't exactly confirm it, but he pretty much did.
"You can figure them out," he said. "But there are certain guys. Like Phil Hughes. I said publicly I wouldn't want to trade Phil Hughes. I stopped trade discussion on Hughes on [Johan] Santana because he was a rare, special guy. And he's proven that out. He's helped us win a World Series in the bullpen, he won 18 games last year, and we have certain guys we think are potentially even better than he is. That excites us."
That's not hyperbole. Manny Banuelos (above), the left-hander celebrating his 20th birthday today, has had an incredible camp with the Yankees. In three outings and five innings, Banuelos has allowed just three hits, a walk and a hit batter, while striking out eight.
Despite standing just 5-foot-10, Banuelos can touch 95 on the radar gun and has great control with the pitch, as well as plus pitches in his curveball and changeup.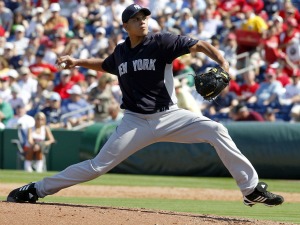 Dellin Betances (left) is nearly a foot taller and 100 pounds heavier than Banuelos and also throws with the other arm. However, the Yankees are just as high on him. A hard-thrower, he doesn't have the command Banuelos has, but throws a bit harder. He also has a hammer of a curveball.
Batances has appeared in three games this spring, going 4 2/3 innings. He's allowed four hits and two runs, walking five and striking out seven.
Don't expect either to wear anything but pinstripes in the future, and if they progress like most believe they can, it would be a surprise to see them in any other uniform for a long, long time.
Those two, along with Andrew Brackman, are the only minor league pitchers left in the team's camp.
Brackman has appeared in one game, pitching an inning, allowing hit and striking out one. The 6-foot-10 Brackman was the team's first-round pick in 2007.
For more baseball news, rumors and analysis, follow @cbssportsmlb on Twitter or subscribe to the RSS feed.