By C. Trent Rosecrans
Brewers pitcher Takashi Saito gave up two runs on four hits in his one inning of work on Sunday, but it was still the best day he's had since an earthquake and tsunami devastated his hometown of Sendai, Japan, last week.
Saito was supposed to pitch Saturday against Arizona, but was given permission to leave after playing catch. He was given the option of whether he wanted to pitch the first inning today or not.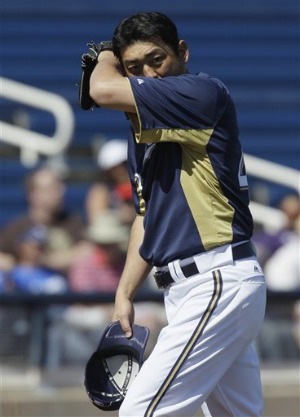 He pitched and before the game asked for a moment of silence for unaccounted friends and family in the disaster.
"I've gotten more news on what's going on in Japan," Saito told the Milwaukee Journal-Sentinel through his translator. "Mentally, I was in a better place pitching. Compared to the past two days, I was able to sleep. I have been getting more information and I'm more relieved."
Saito's wife and three children live in Yokohama, far south of where the significant damage was, but there were still aftershocks. His wife and kids are scheduled to come to Phoenix this week.
"The Brewers staff has been very supportive of me," Saito said. "From now on, I want to get into my regular routine."
Saito's parents and two brothers have been accounted for, but there are still other members of his family missing.
"I recognize areas of neighborhoods where relatives live, and I feel terrible," Saito told the Journal-Sentinel's Michael Hunt for his column this morning.
For a look at the damage in Sendai, see these before and after shots from Google Earth.
One of those missing is a high school teammate, as well as relatives on his father's side.
"I still haven't given up hope," he told MLB.com.
Yankees reliever Kei Igawa's family lives in Orai, Japan, another hard-hit area. According to the New York Post, Igawa was able to track down his family in Japan. His family is living in a car, but alive. He was scheduled to fly to Japan yesterday.
Japanese Professional Baseball will hold a special meeting on the 15th to discuss the start of the season and what to do with the Rakuten Eagles, who play in Sendai. Kleenex Stadium isn't in shape to play due to cracks in the structure, water leaks and depressions in the field.
"Ideally, I think it's our job to play games in order to lift spirits and bring courage to everyone in the Tohuku region," Jun Yoneda, an Eagles representative said (via YakyuBaka.com). "But we need to make this decision after taking a look at the big picture; this isn't just about problems with the stadium, but also the growing list of casualties."
Kleenex Stadium is being opened to the public to use the bathrooms, as well as for use to charge mobile phones.
In the United States, the Dodgers will hold a "drive-through" relief effort at Dodger Stadium on Tuesday. Dodgers alumni will take donations for the American Red Cross Japan earthquake and tsunami relief efforts.
For more baseball news, rumors and analysis, follow @cbssportsmlb on Twitter or subscribe to the RSS feed.