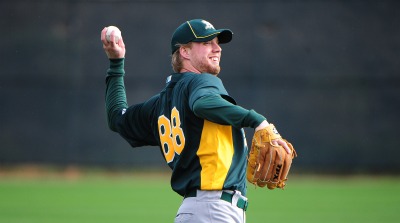 By Evan Brunell
The comeback from Tommy John surgery is a lot more difficult than it may seem these days, with pitchers back in a year and some better than ever.
But the comeback trail is a hard one to bear with hours upon hours of rest and rehab before even picking up a baseball. And even when returning to game action, control is still shaky as pitchers have to relearn mechanics and proprioception, as Sports Illustrated notes in a look at Tommy John surgery and rehabilitation. Proprioception, in short, is the person's ability to sense where certain parts of our body are in space. Relearning that sense is difficult for pitchers to master after surgery.
Both Joey Devine and Josh Outman are pitchers currently returning from Tommy John surgery in the summer of 2009, which puts their current timeframe well beyond the usual nine to 12 months needed to return from T.J. surgery. The Athletics are finding the road back harder than anticipated, and Outman has all but accepted he will likely have to go to Triple-A to continue his work to iron out small tweaks to his mechanics that need to occur before he can face major leaguers.
"We've talked about bad habits I've had in the past, and [pitching coach] Ron [Romanick] has noticed me doing a few things here and there all of a sudden," Outman (pictured) told MLB.com. "It's really nothing major, just a few details out of order. I've been out there every morning, and things are slowly coming back."
Devine is in a similar situation, struggling with mechanics in the process of battling a stiff arm. Like Outman, it is unlikely Devine will be able to break camp with the big-league team.
"I'm doing stuff that my body hasn't done in two years, so my arm's reacting a little different," Devine said. "I've been gripping the ball too much, too hard, and it's causing me to lock up. I have to get back to strengthening the biceps back up and throwing with a smoother delivery.
"My biceps, it's almost like it shut down. I guess, self-consciously, when the arm wasn't working, I thought I had to grip the ball harder. Well, that just causes bad habits, because I couldn't feel my release point, and I was going all over the place."
As a result, Devine's progression has been scaled back to correct his mechanics. He had an off day Sunday and will throw again on Monday before evaluating his readiness to return to game action.
Tommy John surgery has befell two of the more well-known names in baseball lately, with Stephen Strasburg undergoing the knife in September and Adam Wainwright suffering the same injury at the start of spring training. Their returns will be heavily scrutinized, as the progressions of Outman and Devine prove that returning from Tommy John surgery is no picnic.
For more baseball news, rumors and analysis, follow @cbssportsmlb on Twitter or subscribe to the RSS feed.