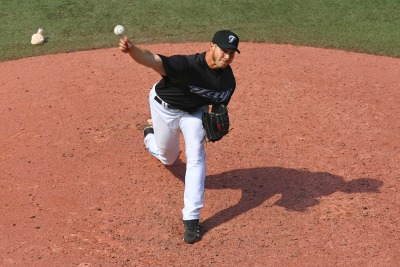 By Evan Brunell
Dustin McGowan still hasn't thrown a pitch since July 2008 as a young member of the Blue Jays rotation and one that was supposed to lead Toronto up the standings.
Except the 28-year-old had dates with a frayed labrum and torn rotator cuff. Now battling back from two major surgeries and two years away from the game, McGowan is unwilling to undergo a third surgery and has moved slowly in spring training as a result. Bullpen sessions were limited to just 25 pitches at 80 percent intensity and were exclusively fastballs until recently. That forced the Blue Jays to evaluate McGowan's future.
"The thing that you run into there is, what is the fatigue level once you get to 80 pitches and above?" Blue Jays manager John Farrell asked MLB.com. "Is that where more damage takes place? Because if that's the feeling -- [and] that's the feeling of the medical staff -- now, you're looking at a five-inning starting pitcher."
That, clearly, wasn't an option for Toronto. Pitches have enough trouble being asked to go the six or seven innings required of them. Having McGowan pitch only five innings a start (if he was even able to reach five innings) would put a major strain on the Jays' bullpen. That's why McGowan is now going to become a reliever, although being a reliever comes with its own set of questions.
"[That's] the tough thing about coming back as a reliever," Farrell added. "If you're not a closer, it can be rough on you, physically, because of the ups and downs and how quickly you've got to get ready for games. But we'll give him plenty of time to answer those questions."
It's unclear when McGowan can hope to appear in a game. He certainly won't be able to break camp with the Jays, but it's possible he could return to the majors at some point in the season. At this point, however, all bets are off.
"The most important thing for Dustin is that he's had no setbacks," Farrell said. "[There's been] no need for added rest on the program he has been on. It still has a chance to be a very good ending to a tough road that he has travelled, but [it takes] a quality person to answer those challenges.
For more baseball news, rumors and analysis, follow @cbssportsmlb on Twitter or subscribe to the RSS feed.