By C. Trent Rosecrans
Just because the games don't count at this time of year doesn't mean things can't get serious. And new Astro Bill Hall is getting serious with Phillies starter Cole Hamels.
Hall said Hamels is now a "marked man" to him -- but said he wasn't referring to any kind of violence against the pitcher.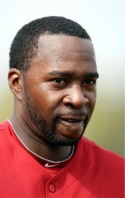 In the second inning of Monday's game between the teams, Hall started shouting at Hamels after being pitched inside. Hall felt it was in response to him stepping out of the box to avoid being quick-pitched. Home plate umpire Laz Diaz restrained Hall, the infielders started coming and both benches were warned, although nobody left the bench.
"He threw a pitch in, and I'm not going to let him disrespect me either," Hall told the Houston Chronicle. "He kind of said something that I didn't like too much. It's over with.
"He's definitely a marked man for me now, so when I do some damage off him, I'm going to let him know I did some damage off him. I can guarantee that."
Hamels, though, didn't see it as that big of a deal and there were "no hard feelings."
When asked if he buzzed Hall's tower on purpose, the dodged the question.
"It's one of those things, I kind of don't want to speak [about]," Hamels said. "It's baseball. I don't know him personally, but I do know he's a good guy. It's just kind of something that happens to get the game."
For more baseball news, rumors and analysis, follow @cbssportsmlb on Twitter or subscribe to the RSS feed.