By C. Trent Rosecrans
The Blue Jays went into camp with no shortage of closers with experience, but no real favorite.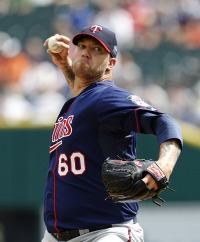 Two weeks into exhibition games, that apparently hasn't changed much.
"It's premature to say who's in that slot," manager John Farrell said (via MLB.com). "The main thing is guys that are taking the ball and getting on the mound are certainly putting themselves in a position to establish roles. So right now, we're not here to say who has that spot locked down."
That points toward Jon Rauch, left, because of injuries to Octavio Dotel and Frank Francisco, both scratched from their next scheduled outings because of injuries. Francisco, scheduled to pitch today against the Phillies, was out with a right pectoral injury and Dotel, expected to throw Wednesday and Saturday, has a sore left hamstring.
Rauch, signed two a one-year deal with a team option for 2012 in the offseason, had 21 saves for the Twins last season. Farrell also praised his recent performance, including a scoreless inning against the Phillies on Tuesday.
All three were acquired in the offsesason -- two signings and a trade -- after the team lost Kevin Gregg and Scott Downs to free agency.
Francisco is still expected to be ready for opening day, Farrell said.
"We feel like if we can get him three or four games [more] before we leave camp, he'll be fine," Farrell said. "He's not overtly concerned or overly alarmed. He feels this is a spring training aches and pains type thing that he's going through. The red flag is not up per se with Frankie."
For more baseball news, rumors and analysis, follow @cbssportsmlb on Twitter or subscribe to the RSS feed.