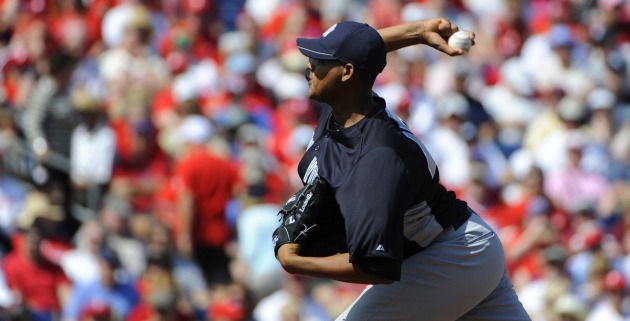 By C. Trent Rosecrans
3 UP
1. Ivan Nova, Yankees -- The right-hander competing for a spot in the Yankees' rotation showed he could handle AL East competition on Wednesday, dominating the Orioles. Nova didn't allow a hit in six innings, and just two O's reached base. Nova hit Robert Andino to lead off the game and Adam Jones reached on an error in the fourth inning. Nova faced 19 batters, one over the minimum, throwing 59 pitches, 41 for strikes.
2. Elliot Johnson, Rays -- Competing for a spot on the Rays' bench, Johnson -- who has mostly played at second base -- made his spring debut in center field, and made quite the impression. Johnson stole three bases -- including a steal of home in the sixth inning, also had a double and as ingle, two runs and two RBI.
3. Joe Mauer, Twins -- Twins catcher Joe Mauer made his spring debut on Wednesday and singled on the second pitch he saw. Mauer served as the team's designated hitter and is expected to catch on Thursday in a minor league game.
3 DOWN
1. Tyler Clippard, Nationals -- The reliever coughed up his team's four-run lead by walking the first two batters he faced, then giving up two doubles, a triple and an RBI single to score the winning run.
2. J.J. Putz, Diamondbacks -- Another reliever, another disaster. Putz faced five batters and didn't retire one. He did, however, get credit for 1/3 of an inning because Erick Aybar was caught stealing. He walked three, gave up two hits and four runs. He also added a wild pitch to boot. But hey, he was throwing 92-94 mph, so there's that.
3. Daniel Schlereth, Tigers -- Well, while we're at it, why not make it a trilogy? Lefty Daniel Schlereth faced four batters Wednesday against the Cardinals and walked all four of them. Coming into Wednesday's game, he'd walked just one batter and hadn't allowed a run in 2 1/3 innings.
For more baseball news, rumors and analysis, follow @cbssportsmlb on Twitter or subscribe to the RSS feed.