By Evan Brunell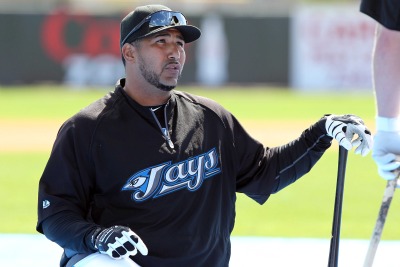 Jose Molina could crack 200 at-bats for the third time in his career this season, as Blue Jays manager John Farrell reveals Molina will likely be the personal catcher for two starting pitchers.
Molina will link up again with Brandon Morrow, as he did for 20 of Morrow's 27 starts, but will also add Kyle Drabek to his duties if the youngster can make the rotation. That would line him up to easily surpass 200 at-bats in a career and give him a shot to set a new career high provided Morrow and Drabek stay healthy.
Molina grabbed 268 at-bats for the Yankees in 2008 thanks to a Jorge Posada injury and hit .216/.263/.313. Of course, Molina isn't in the majors for his bat, but rather his defense which is a trademark among the Molina brothers (although less so for Bengie) along with being completely unable to run. Molina also had 203 at-bats for the then-Anaheim Angels back in 2004.
The belief is that Molina can handle power pitchers better than rookie catcher J.P. Arencibia could, as pitchers would be less comfortable overruling Molina's calls than they may otherwise with the still-green Arencibia.
"We don't want to say that certain pitchers can't pitch with other catchers behind the plate," manager John Farrell told the Toronto Sun, "but I think you're looking at two pitchers with similar stuff and to make sure that they don't go away from their secondary stuff and become so reliant on their fastball and just become hard, hard, hard. Sometimes a power pitcher's mentality can revert to that throwing mindset. That's where some of [having Molina] can be beneficial."
Such an arrangement would limit Arencibia to three out of five days of playing time, which seems like an odd way to treat someone who could have a long future in Toronto. Arencibia is known more for his bat than his defense, but it's still important to get him used to the majors. It's possible Toronto could DH Arencibia on the days he sits, which would likely push Juan Rivera or Edwin Encarnacion to the bench.
For more baseball news, rumors and analysis, follow @cbssportsmlb on Twitter or subscribe to the RSS feed.