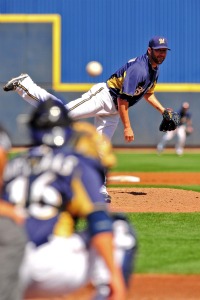 By C. Trent Rosecrans
You can forgive Brewer fans for being a little tight right about now.
Milwaukee had another starter leave the game prematurely -- this time it was right-hander Shaun Marcum. However, Marcum said he didn't think the tightness in his right shoulder was anything to worry about.
"This may be one of those things to take a day or two off of throwing to get the tightness out of there and pick back up where I left off and get ready for April 2," Marcum told the Milwaukee Journal Sentinel.
Marcum left after three innings of Thursday's game against the White Sox. He allowed just a hit and struck out two before exiting.
"It felt good the first two innings and in between the second and third it started tightening up," Marcum said. "We just decided it would be in the best interest to not go back out."
The Brewers, of course, lost Zack Greinke earlier this spring. The team has also seen injuries to Corey Hart, Yuniesky Betancourt, Ryan Braun, Carlos Gomez and Chris Dickerson.
"We are this far along, we have two weeks left and it seems like everyone is going down," Marcum said. "You want to be one of the guys that stays healthy and is able to play when it is my time."
It would be silly to panic now, but there is certainly concern in Brewer camp. A couple of more injuries and the needle could move away from concern and toward panic.
For more baseball news, rumors and analysis, follow @cbssportsmlb on Twitter or subscribe to the RSS feed.