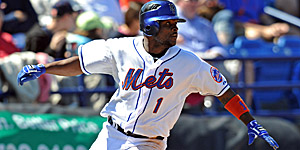 By Matt Snyder
Now that
Luis Castillo
has
been given his walking papers
, there's a veteran second baseman on the market who could fill a void toward the end of the lineup for someone else.
He's obviously not an overly attractive player in the present, but he has good pedigree and would be dirt-cheap -- the
Mets
are paying his salary for this season, so someone else could swoop him up for the league minimum. He did hit .302 with 20 stolen bases and play decent enough defense in 2009.
Thus far, the only team that has reportedly expressed interest is the
Dodgers
(
Los Angeles Times
via Twitter), but we can expect that list to grow soon, even if only marginally. For the Dodgers, it looks like
Casey Blake
might be starting the season on the disabled list, which would mean they'll need to use
Juan Uribe
at third and
Jamey Carroll
at second -- a situation that cripples the bench depth. Adding Castillo would ease that situation.
Here are some other teams where Castillo might fit:
Cubs:
They do have
Blake DeWitt
and
Jeff Baker
fighting for the starting job, but neither are going to blow your socks off. With an aging lineup in some spots, the Cubs might feel like seeing if he can bring something to the team a la
Jim Edmonds
in 2008 (who was picked up after the
Padres
cut him).
Rockies:
I'm not sure they'd want to add to the logjam, but the Rockies are currently sitting with
Jose Lopez
,
Ty Wigginton
and
Eric Young
Jr. in the spot.
Tigers:
Carlos Guillen
isn't healthy and Jim Leyland has been talking about moving
Ryan Raburn
into the infield to fill the void. Simply snagging Castillo and giving him a chance would make a good amount of sense.
Marlins:
It's pretty unlikely, but Castillo did play there for a decade. Plus, the Fish don't really have a third baseman. Adding Castillo could allow them to use
Omar Infante
at third. Plus, we know the Marlins love the price tag on Castillo.
Phillies:
Assuming the
Chase Utley
health situation doesn't come to a close soon -- and it really doesn't feel like it will -- Castillo could be a nice stop-gap until Utley returns. Plus, with the whole rivalry and Castillo's likely bitterness toward the Mets, he'll be motivated to stick it to the Phillies' rivals.
Cardinals:
With the injury to
Nick Punto
, the Cards are lacking some depth up the middle.
Ryan Theriot
and
Skip Schumaker
are slated to start with
Tyler Greene
backing them up. Adding Castillo would probably be a good mutual fit, as many middling middle infielders seem to thrive under Tony La Russa (
Aaron Miles
, for example).
The overwhelming majority of this is idle speculation and the smart money is on the Dodgers, Tigers or Phillies (dependent upon Utley). Just keep in mind the most likely destination is a place where they're expecting to win now, but has a hole due to injury or weak competition at the position.
For more baseball news, rumors and analysis, follow @cbssportsmlb on Twitter or subscribe to the RSS feed.