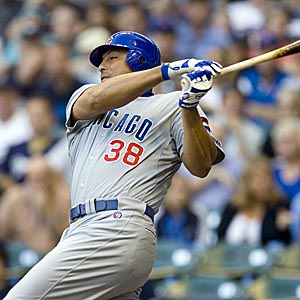 By Matt Snyder
It might be really entertaining to watch, and he might be one of the best hitting pitchers in baseball, but at some point
Carlos Zambrano
just needs to settle down and back away from the lumber.
The most recent movement on Z's everlasting quest to be this generation's Babe Ruth is that he took so much batting practice his left wrist is now wrapped. (
Chicago Tribune
)
And, of course, he's got a charity home run derby on the horizon.
I guess getting Big Z "cured" from his bad temper was the first step. Next up, his shrink needs to convince him that he's a pitcher.
A pretty good one at times, in fact.
From August 14 on last season, Zambrano was one of the most dominant pitchers in baseball. He went 8-0 with a minuscule 1.24 ERA. He's still only 29, so it's not out of the question for the three-time All-Star to pitch like he did in the past -- when he finished fifth in Cy Young voting three times.
He can also hit, which might cause a problem if he doesn't just settle down. He's won three Silver Sluggers. He's a career .236 hitter, which is excellent for pitchers. He has 21 career home runs. In 2008, he was actually productive enough to be considered good by position player standards -- hitting .337 with an .892 OPS. Last season, though, he was down to .231 with a .543 OPS.
Anything Zambrano gives the
Cubs
' offense in 2011 is obviously good, but it's gravy. A pitcher isn't expected to produce anything offensively other than the occaisional sacrifice bunt.
Look, it's OK to take batting practice. It's great to be enthusiastic. It's even better to want to help the team with the bat. But when you're doing so much work in the cage you have to wrap your wrist, maybe it's time to dial it back a notch.
Fortunately Cubs manager Mike Quade is using the designated hitter Friday for Zambrano's spring start. It's the right move.
After all, Zambrano is paid over $18 million a year to be a starting pitcher, not to hurt himself in the batting cage.
For more baseball news, rumors and analysis, follow @cbssportsmlb on Twitter or subscribe to the RSS feed.