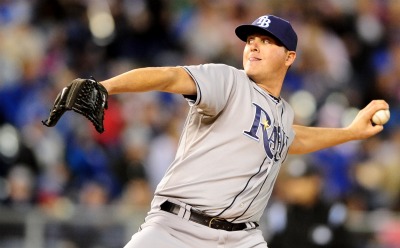 By Evan Brunell
Joe Maddon appears set on moving forward with a closer-by-committee approach this season.
The Rays have been forced to overhaul their entire bullpen and currently project to have just Andy Sonnanstine as a returning member of the 2010 bullpen with any appreciable time. Tampa will also have J.P. Howell, who missed the entire 2010 season due to injury along with Mike Ekstrom, a Padres castoff who chipped in 16 innings. The last holdover is prospect Jake McGee (pictured), who received a cup of coffee in September.
External imports include Kyle Farnsworth, Joel Peralta, Adam Russell and Cesar Ramos. None of the names, internal or external, have any extensive relieving history outside of Howell and Farnsworth. But even these two are question marks when it comes to closing games. That set up an opportunity to go closer by committee, and that's certainly right up manager Joe Maddon's alley, who loves to turn conventional baseball on its ear if it means grabbing an advantage -- an extra two percent advantage, if you will.
The history of closer by committees is not kind, with the 2003 Red Sox as the latest cautionary tale. However, would naming a closer when there isn't an obvious candidate to even those close to the action be any better than opting to go with the best reliever for the situation, period?
"It's just going to be the leverage of the moment, how we get to the ninth inning, who's been used already to make sure that we had a lead going into the ninth inning," Maddon said. "I'm liking the way this is looking right now. I think we're going to have several candidates to get the last out. I don't just want to say, 'You're going to get the last out every night,' but on any given night, I think we have the ability to potentially move that last out or last two outs around, based on left-handed or right-handed hitters."
Although Maddon plans to begin the season with this arrangement, he's not looking to make it permanent -- at least for now. Maddon expects to keep his options open, which is a smart move when the closer of the future may already be in the bullpen in McGee, who is set to begin his rookie season.
"I think he'll be ready to do that at some point in his career," Maddon said of the lefty eventually emerging as closer. "I just don't know exactly when I'm going to be comfortable with that.
"Jake's got a high-end arm. My biggest concern, is he ready emotionally to handle that, and if it does not go well, how's he going to react?"
It's dangerous to read too much into that quote, but it's rather interesting that Maddon is concerned about McGee's emotional state. Nefali Feliz saved 40 games last season as a rookie and the Braves have two rookies battling for the closer's spot this spring. Is it just normal concern about thrusting McGee into the closer's role immediately or is there something more here?
For more baseball news, rumors and analysis, follow @cbssportsmlb on Twitter or subscribe to the RSS feed.