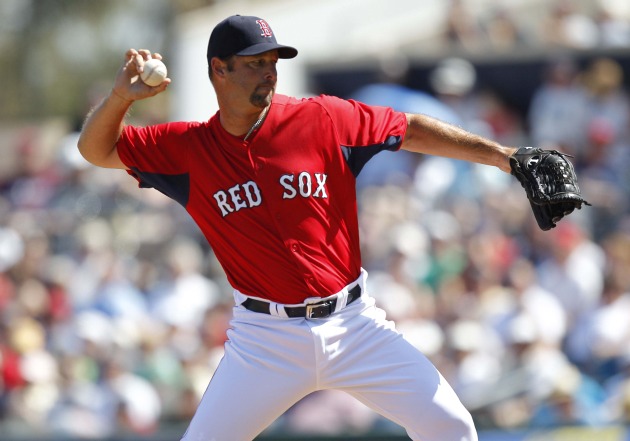 By Evan Brunell
It's pitching day here at 3 up, 3 down with only Melky Cabrera the non-pitcher to be featured in this lineup. While some hitters had some fine days, the most interesting lines came from pitchers, as we'll find out...
3 UP
1. SP Francisco Liriano: 5 IP, 3 H, 1 R, 1 BB, 7 K. Liriano has been the subject of trade rumors this offseason, with the rush continuing into spring training. Apparently Liriano's now going to be the hot name in trade talks after Cliff Lee dominated that arena for two years. Lirano got spring training off to a brutal start but really shined Friday against the Orioles, who had a dominating performance by Brian Matusz to hang tough.
2. SP Brandon Morrow: 5 IP, 3 H, 0 R, 3 BB, 6 K. Don't sleep on Morrow, whose K/9 would have led the AL had he pitched enough innings to qualify. The Jays will lift their protective hands off Morrow just a bit more in 2011, and Morrow could soon become a household name after coming within a final out of a no-hitter last season. His showing Friday knocked his spring ERA down to an eye-popping 0.75.
3. CF Melky Cabrera: 3 AB, 2, R, 2 H, 1 BB, 1 K. The Melk Man is hitting a scorching .529 and it could actually be possible that Cabrera's ready to bounce back from a dismal season in Atlanta, where he was out of shape and it showed. After thrilling fans with the Yankees, Cabrera seems doomed to being overhyped and flaming out. But while spring statistics don't mean much, Cabrera's strong showing so far means the still-just-26-year-old could actually have some life in his bat.
3 DOWN
1. RP Tim Wakefield: 3 IP, 7 H, 6 R, 1 BB, 2 K, 4 HR, WP. Um... yeesh. What is there to say? Wakefield's spot with the Red Sox is tenuous at best, as this sobering piece from the Boston Globe reports. Could the knuckleballer's career be coming to an end? Probably not, but four home runs in the span of six batters is pretty gosh-darn bad. For what it's worth, manager Terry Francona said Wake's knuckler has been the best he's seen so far this spring, but starting in the second inning, the knuckler wouldn't move outside of the strike zone. Such is the life of a knuckleballer.
2. SP Wily Peralta: 1/3 IP, 5 H, 5 HR, 2 BB, 0 K. Ouch. Double ouch. Triple ouch. The first ouch was for Zack Greinke getting hurt. The second for Shaun Marcum experiencing shoulder tightness that could be an issue. And triple ouch for Peralta's day, which gives him a spring ERA of 9.00. Peralta's just 21, but was thought to be right up there in terms of getting a shot to start with Greinke out. But this start doesn't help him leapfrog ahead of... uh... who are the other candidates again?
3. SP J.A. Happ: 5 IP, 4 H, 1 R, 0 ER, 4 BB, 1 K. It's not every day that allowing zero runs gives you a bad day, but Happ is quite an interesting character. He has long defied the laws of ERA, as his career mark is 3.27 against an xFIP of 4.61. How long can Happ continue to defy the baseball gods with a criminally-low BABIP and strand rate? So far, he's defying them just fine.
For more baseball news, rumors and analysis, follow @cbssportsmlb on Twitter or subscribe to the RSS feed.