By Matt Snyder
It just won't go away, this petty little feud.
I speak, of course, of the "old school" baseball people who hate blogging -- yet blog themselves, which is weird -- and despise anyone who dares to disagree with their beliefs, especially when it comes to "newer" statistics (though OBP is hardly new). Check out this
really awesome
paragraph from Bruce Jenkins of the
San Francisco Chronicle
:
It won't be long before we get the first wave of nonsense from stat-crazed dunces claiming there's nothing to be learned from a batting average, won-loss record or RBI total. Listen, just go back to bed, OK? Strip down to those fourth-day undies, head downstairs (to "your mother's basement and your mother's computer," as Chipper Jones so aptly describes it) and churn out some more crap. For more than a century, .220 meant something. So did .278, .301, .350, an 18-4 record, or 118 RBIs. Now it all means nothing because a bunch of nonathletes are trying to reinvent the game?
Now, I'm not gonna go nuts. Several people already have across the 'net, though
the great Joe Posnanski
already took care of the heavy lifting in the most rational post possible -- and
came back for a little more
.
I'll just add that my personal feeling is that it's always dangerous to side with someone who attacks people for simply disagreeing. I prefer on-base percentage over batting average because not making outs is a much better measure of a good baseball player than disregarding walks and hit-by-pitches and figuring a hit percentage. In fact, I don't understand how it's not obvious -- seriously, a walk doesn't even count in batting average! -- but I'm not about to attack the character of someone who disagrees. If you feel compelled to freak out and use a decade-old joke that makes no sense, maybe you are the one with the problem? Just a thought.
As for the "non-athlete" thing, I have a short anecdote to illustrate my point. I realized I hated batting average as compared to OBP one time when I went 0-1 with three walks and three runs scored -- noticing it was a .000 batting average for the day, yet a pretty damn good day of helping my team win.
And the game wasn't even in my mother's basement. Seriously!
Honestly, though, don't you think guys in a similar situation in the bigs would feel the same way? What about a pitcher who throws a complete game and only allows one
unearned
run, yet loses 1-0. And he goes home and sees on MLB Network that a pitcher for the
Yankees
allowed seven earned runs in five innings and got the win because the Bombers' offense went nuts. Judging pitchers on wins and losses would have us believe the latter performed better. Really?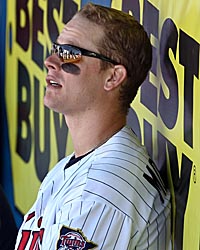 Again, I don't understand how it's not obvious these stats aren't the best ones. If this was elementary school you'd get an F for disagreeing. Maybe I should start making lame jokes in return instead of having an actual, meaningful conversation. Apparently that's the best way to plead your case when it comes to the old school.
MORNEAU AT NIGHT:
Justin Morneau
played his first night game in a long, long time Friday night, and things went well. "It's just different. For the most part, the stuff has come on later in the day. So I wanted to see, because we usually play night games during the season, I wanted to see where I was at, and I felt pretty good." That "stuff" to which he is referring, in case you've been asleep since last July, would be lingering symptoms from his concussion. (
MLB.com
)
STOREN STRUGGLES:
Second-year pitcher
Drew Storen
was supposed to be the
Nationals
' closer this season. He still very well may be eventually, as he has the highest upside of any of the candidates. But he's had a pretty disastrous spring and might be in jeopardy of being optioned to the minors. It's not likely, but possible. (
Washington Post
)
DON'T DOUBT DAVIS:
Doug Davis
has worked out for four teams in Arizona and is looking to catch on somewhere (
MLB Trade Rumors
). It's uncertain that he'll definitely be able to grab a job in a rotation at some point this year, but I don't plan on wagering against the veteran. He's already kicked cancer's butt.
UBALDO GETS NOD:
We've been posting the announcements of opening day starters as stand-alone pieces, but
Ubaldo Jimenez
as the
Rockies
' opening day starter is far too obvious. It would have been shocking if he wasn't handed that responsibility. Just a heads-up, don't expect posts on
CC Sabathia
,
Roy Halladay
or
Felix Hernandez
on this subject either. (
MLB.com
)

ELVIS MUSCLES UP:
Elvis Andrus
hit a home run Friday. He hasn't done so in a regular-season game since September 2 ... of 2009. (
ESPN Dallas
)

FANS HAVE CLOUT?
You always wonder if teams take these sort of things under consideration, but it's incredibly rare -- if not unprecedented -- for a team to admit fan venom played into a move. But the
Mets
did so with Luis Castillo (
ESPN New York
). Manager Terry Collins and general manager Sandy Alderson both admitted that the Mets' fans' collective hatred of Castillo played a role in the team cutting him.
WESTY'S ROAD BACK:
Red Sox
prospect Ryan Westmoreland has stared death in the eyes and survived. Now he's on the comeback trail. I won't even attempt to do this lengthy feature justice, instead I'll just say please go read it. It's great stuff. (
Boston.com
)
RETURN TO DODGERTOWN?
The
Dodgers
' spring training games are not drawing well. In fact, attedance is down 42.3 percent from last season in Camelback Ranch. The average draw per game is barely over half the capacity. (
Los Angeles Times
)

A QUESTION OF DURABILITY:
Scott Rolen
hasn't played more than 140 games since 2006 and not more than 150 since 2003. He's 36. He faltered in a big way in the second half last season. But he's saying all the right things and preaching accountability. (
MLB.com
)
For more baseball news, rumors and analysis, follow @cbssportsmlb on Twitter or subscribe to the RSS feed.