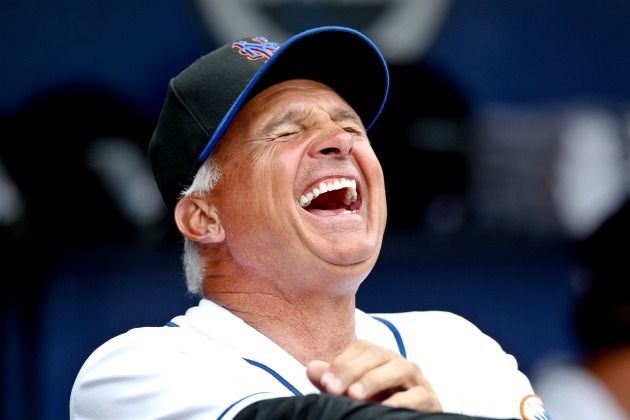 By Evan Brunell
TIME TO LOOSEN UP: Terry Collins is well aware of his reputation as a no-nonsense manager whose intensity lost the respect of his players when he helmed the Astros and Angels.
However, to hear Collins tell it, he realizes where he went wrong and wants to make changes.
"I've thought about it a lot," he said. "I took it way too serious. Even though I enjoyed it, I didn't enjoy it. It was all about the winning, winning, winning, instead of enjoying being around these guys and watching them play, enjoying the experience and the challenge of competing. That's what I love to do.
"There was that thing that I had to prove something. I still want to prove that we're good enough, but I don't think it's the same type of attitude I had in the past. And with that comes the fact that these guys are human beings, and they need communication."
Collins plans to have the Mets play aggressively, as his Angels did -- which still continues to this day under manager Mike Scioscia. He also places a premium on players aspiring to be great and staying focused, which sounds a lot like the old Collins, but the skipper knows that.
"Hopefully, the energy -- or whatever people want to say, the intenseness that I have -- may work here," Collins said. (New York Times)
IZZY COULD SET UP: Jason Isringhausen was once one of the Mets' most heralded pitching prospects before injuries completely wrecked his early years. He was later moved to Oakland and became a closer, famous for his time in St. Louis. Now, after missing most of the last two years, Izzy appears poised to set up closer Francisco Rodriguez back in New York. (New York Post)
IT'LL BE PUDGE: After a brief skirmish among Nationals reporters as to the state of the catching, it appears Ivan Rodriguez will certainly start Opening Day for Washington -- but Wilson Ramos figures to get the bulk of work behind the plate in short order. (Washington Post)
NO MORE GUYS: Five Guys is a weakness of Evan's, and it will no longer taunt him in Nationals Park, as the burger chain has opted not to renew its lease despite being one of the more popular options for customers. (Eater.com)
SILVA'S SPOT IN DANGER: Carlos Silva has had a beyond-awful spring training and although he's slated to take the bump once more next Wednesday, that may not happen. Manager Mike Quade and GM Jim Hendry are expected to sit down and make some touch decisions prior to then. It's entirely feasible that Silva will be put out of the running for the No. 5 starter's spot at that time. (Chicago Sun-Times)
GOOD NEWS FOR BREW CREW: Milwaukee already has enough problems figuring out who will replace Zack Greinke in the rotation, so bad news regarding Shaun Marcum is not ideal. However, the righty believes while he may have to skip a start in spring training, he will be on track for the regular season. (MLB.com)
THE NATURAL: Ken Griffey, Jr.'s talent on the field sometimes evoked comparisons to the immortal Ray Hobbs, but who knew that Griffey had untapped potential? Griffey stopped by the Mariners' broadcast booth for five innings Friday and drew rave reviews. (MLB.com)
BENGIE WANTS TO PLAY: Don't call Bengie Molina retired, brother Jose of the Blue Jays says. Rather, Molina isn't interested in playing unless any contract he signs "shows him sufficient respect." Is it just me, or is an offer to extend your career and haul in at least another half-million plenty of respect to give? (FOX Sports)
INCREMENTAL PROGRESS: The Yankees haven't made formal who the Nos. 4 and 5 starters will be (bank on Ivan Nova and Freddy Garcia) but now we know who is following CC Sabathia on the mound: A.J. Burnett and Phil Hughes, respectively. (New York Post)
For more baseball news, rumors and analysis, follow @cbssportsmlb on Twitter or subscribe to the RSS feed.