By Evan Brunell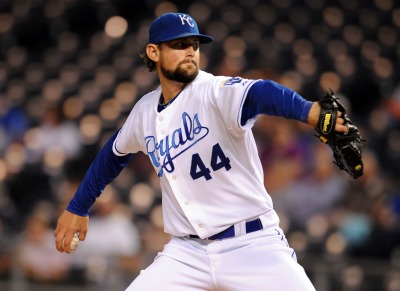 The Royals have announced their rotation, and it has Luke Hochevar at the top, slated for the opening day assignment as the Kansas City Star reveals. Following Hochevar is Jeff Francis, Kyle Davies, Bruce Chen and Vin Mazzaro, although Mazzaro will be held back as the club does not need a fifth starter until April 16. That will allow an extra relief pitcher to be carried and for K.C. to continue evaluating some bullpen pitchers on the bubble.
Hochevar has a career 5.60 ERA, so he's hardly worthy of the billing. It just goes to show you how dire the rotation is as they await arrivals of pitchers like Mike Montgomery, John Lamb and Jake Odorizzi, among others.
While Hochevar did improve greatly on his career ERA by posting a 4.81 mark in 2010, that came in just 103 innings as he struggled with injury and posted a 3.2 BB/9 and 6.6 K/9. His advanced pitching metrics, such as FIP, are far more kind to Hochevar, with FIP giving Hochevar a 3.93 mark. The issue that plagues Hochevar the most comes with stranding baserunners, as league average hovers around 71 percent each year. Given that strand rate is influenced by factors largely out of the pitcher's control, it's been argued that a poor (or good) strand rate shouldn't be used to evaluate a pitcher's effectiveness.
However, Hochevar's strand rate hasn't cracked 65 percent in the three years of extended playing time he's had in the majors. In fact, that 65 percent happened in 2010, also the year he's posted his best ERA, FIP and xFIP numbers. That speaks to something particularly damaging Hochevar's ERA, such as a porous bullpen that constantly gives up inherited baserunners. That can't be the entire cause of it, however.
Other factors that could come into play is the defense. As a groundball pitcher, Hochevar induces a ton of grounders which is good from a BABIP perspective, but bad when you have a poor defense behind you. That was certainly the case in Kansas City the last few years, especially when the disastrous Yuniesky Betancourt played short.
Another reason could be that Hochevar simply doesn't function well with baserunners on, whether mentally or from the stretch. Hochevar's K/9 rate dips from 7.02 pitching with no one on to 6.15 with men on base. His walk rate also spikes to 4.37 from 2.34, so it appears Hochevar struggles to pitch from the stretch.
There doesn't appear to be one specific smoking gun for Hochevar's problems with stranded runners, although one should point to his struggles pitching out of the stretch as a primary cause. If he can somehow arrest that issue, Hochevar could evolve into a solid back of the rotation starter. As it is, however, Hochevar would struggle to crack the rotation in a lot of cities, but in K.C. he happens to be the ace.
For more baseball news, rumors and analysis, follow @cbssportsmlb on Twitter or subscribe to the RSS feed.