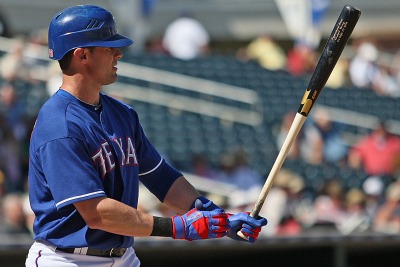 By Evan Brunell
The Phillies may be prepared to go after Michael Young (pictured) hard with the looming possibility that Chase Utley could miss the entire season with patellar tendinitis, which also threatens his career.
The report out of the New York Daily News makes note that the Phillies' payroll is virtually maxed out as it has cracked the $160 million barrier. However, Texas is reportedly open to eating half of Young's deal, which will pay him $48 million over the next three seasons. In addition, the Rangers could accept Joe Blanton back from the Phillies -- on the ledger for $17 million over the next two years. However, it is difficult to fathom the Rangers being willing to chew up $28 million in Young's salary over the next three years, plus add Blanton's deal on top. In addition, Texas is seeking a strong prospect in return for Young, and the Phillies may not be willing to offer up yet another prospect in a farm system that has been razed by the Cliff Lee and Roy Halladay trades.
Even if Utley is able to return to the roster this season, the club could just make Young a roving backup infielder. However, he could easily continue to start if Jimmy Rollins or Placido Polanco struggle. In addition, the two are free agents after the year, which would open up a starting spot for Young.
It's obvious, despite the team's denials to the contrary, that Philadelphia is extremely concerned about the state of Utley's knee and are rushing to contingency plans. Luis Castillo was signed to a contract Monday after being released from the Mets, but he is only a temporary stopgap unless he suddenly returns to the .300-average days of old, and even then he provides limited value.
Unfortunately for Philadelphia, there just aren't any cheap, good options to supplant Utley at second base. The team may actually have better luck shifting Polanco to second, his primary position, and chasing a third baseman to fill the gap. The White Sox are known to have made Mark Teahen available, and he would be a nice fit in Philadelphia if the dollars make sense. Teahen could play third and is even capable of playing right field, another position in flux for the squad.
That's pure conjecture, but as heavy expectations are heaped upon the Phillies, the front office has to find a way to withstand the loss of Utley and ex-right fielder Jayson Werth on offense. After all, for all the good pitching a team can have, you can't win without scoring runs.
For more baseball news, rumors and analysis, follow @cbssportsmlb on Twitter or subscribe to the RSS feed.