By C. Trent Rosecrans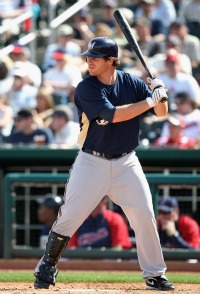 The Brewers may have found their replacement for Prince Fielder after the season, and he's not coming from outside.
Former highly-touted third base prospect Mat Gamel was optioned to Triple-A Nashville on Tuesday to learn how to play first base. With Casey McGehee seemingly entrenched at third for the Brewers and Gamel struggling defensively, it seems like a natural fit. Or at least a pretty good contingency plan. Fielder is a free agent after this season and not many expect him to return to Milwaukee.
Gamel has suffered from injuries, but also found his way to the majors blocked by McGehee, Corey Hart in right and Ryan Braun in left. Before the 2009 season, Baseball America ranked him the No. 34 prospect in all of baseball. In the minors, he's certainly hit, putting up a .302/.376.489 line in six seasons, along with 77 home runs.
Last season he played at three levels, hitting .309/.387/.511 with 13 homers in 82 games at Nashville.
"I told Mat that playing first base is not like sticking a Little Leaguer in right," general manager Doug Melvin told the Milwaukee Journal Sentinel's Michael Hunt. "It's a tough position. A lot goes into it."
Melvin also said the team doesn't want Gamel playing right field for the Sounds. There has been speculation that the team could move Hart to first and Gamel replace him in right.
Gamel, serving mostly as a designated hitter this spring, hit .375/.444/.375 with three hits in eight at-bats this spring. A rib cage injury has limited his at-bats this spring.
In 167 career big league plate appearances, Gamel's hit .241/.335/.414 with five homers and 21 RBI. The bulk of his big league experience, 61 of 75 games, came in 2009. He's also played left field and served as the team's designated hitter and a pinch hitter. He played in 12 games last season.
The team is leaning toward keeping Erick Almonte or Luis Cruz to fill the backup infielder spot, Hunt writes.
For more baseball news, rumors and analysis, follow @cbssportsmlb on Twitter or subscribe to the RSS feed.