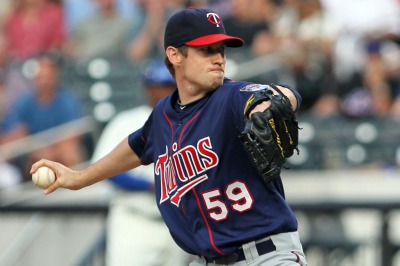 By Evan Brunell
The Twins have mercifully made Kevin Slowey available in a deal, as they have chosen Scott Baker to be their No. 5 starter, as FOX Sports reveals.
Why is it merciful? Because Slowey deserves to start, and it is the Twins' loss to choose players such as Nick Blackburn over Slowey, who has a sterling 1.50 career walk rate per nine innings, paired with a 6.86 K/9 mark. While his 4.41 career ERA isn't great, it looks a lot better with a 4.32 xFIP and he could easily dip below 4 in the National League. Heck, as a 26-year-old, he still has the talent to do so in the AL.
Slowey is a flyball pitcher, so best profiles in a park that plays to his tendencies. If he can land in such a place -- Seattle is one possible destination -- it would be to his benefit. The Mariners are looking to improve their starting pitching depth and could offer up reliever Brandon League in a deal for Slowey. Working against this is the fact League is slated to open the year as closer with David Aardsma out to injury. The M's may not want to turn their bullpen into a motley crew, but frankly, if it's between League and Slowey and a poor bullpen, Slowey's the choice.
Any deal involving Slowey will require relievers in return as the Twins lost Jesse Crain, Matt Guerrier, Jon Rauch and Brian Fuentes. The club does have Joe Nathan returning and Matt Capps functioning as setup man, but the rest of the bullpen is in dire straits.
Other teams currently in need of a starter include the Brewers, Cardinals, Dodgers, Blue Jays and White Sox, but some are only interested in internal options as their starting pitching depth is temporary, such as the Dodgers or White Sox. However, even for those teams, Slowey would be an intriguing add as it is not every day you get a young right-handed starter with spotless command and a track record.
The Blue Jays in particular have been linked to Slowey, but given Toronto has Octavio Dotel and Frank Francisco on the verge of landing on the disabled list, it's unclear if the Jays are interested in compromising their relief depth.
Bet on the Twins entering the season with Slowey, but it would be a surprise if he wasn't moved by July to a team in need of a starter. The Padres could end up the best fit, as they have a cavernous park and could possibly have relievers to deal.
For more baseball news, rumors and analysis, follow @cbssportsmlb on Twitter or subscribe to the RSS feed.