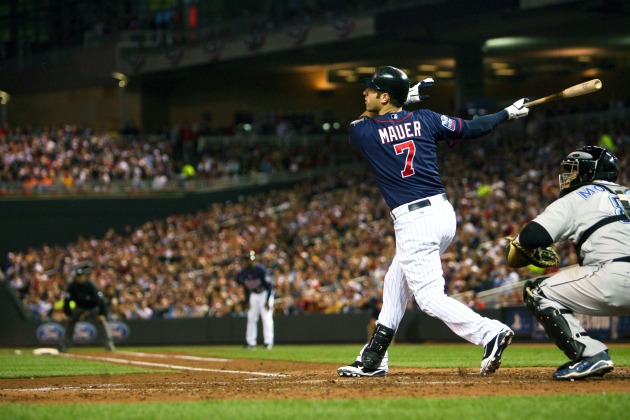 By Evan Brunell
MAUER POWER: Joe Mauer dipped from 28 home runs in 2009 to just nine last season, one coming at the new home park of Target Field. That's partly due to struggling with injuries and partly thanks to Target Field being the hardest park to hit a home run in. Mauer struggled to adjust in the first half (.293/368/.424) but finished strong in the second half (.373/.447/.527) and isn't interested in struggling again this season.
"A lot of times, I was hitting balls to left field that would be out of a lot of other parks, and they were caught for outs," Mauer said. "So you try to muscle it up a little bit more, and you become a little late [with each swing]. So yeah, it definitely does play with your mind."
While Mauer may try to load up on away home runs, he has the proper frame of mind for how to approach his new home.
"Just keep it simple, try to hit hard line drives, find those gaps and run a little bit."
That could lead to a ton of doubles for Mauer, who racked up 43 after just 30 in 2009. While anyone would prefer homers to doubles, the fact that Mauer can still drive the ball for doubles shows that his power is far from waning.
That hasn't stopped some from questioning the eight-year, $184 million pact that will keep Mauer in a Twins uniform. The deal, universally hailed at the time, has since come under question, but GM Bill Smith dismissed the concerns.
"The contract wasn't done in a one-year vacuum," Smith said. "It's the body of work that Joe had from 2005 through 2009. And we look forward to the coming years, hopefully the coming decade, with Joe Mauer as one of the cornerstone players in this franchise." (Minnesota Star Tribune)
THE EMERGENCE: Brandon McCarthy struggled in Texas to deliver on the promise that caused the team to trade John Danks. However, now with Oakland, McCarthy has moved away from power pitching and has focused on letting the movement on his pitches do the work. That's led to a sensational spring training, and McCarthy is now ready to go for the season. (San Francisco Chronicle)
CLOSING TIME: Now that Alexi Ogando is officially returning to the bullpen, he indicated he would enjoy closing. Ogando may get that shot if Neftali Feliz remains in the rotation, but that's unlikely to happen. "I feel I'm mentally strong and don't think it will affect me that much," Ogando said. (MLB.com)
WATCH YOUR MOUTH: After years of not training players to deal with the media, the Yankees changed their tune in 2007 to integrate a media-training program. That program has since escalated to mock interviews, role playing, guest speakers and more. Derek Jeter has also assisted in this, telling youngsters that they are still on the clock even when the uniform comes off. (Wall Street Journal)
HERE'S A TIP: Daniel Hudson had such a poor start Wednesday that he landed on the 3 up, 3 down list. The righty feels he may have been tipping his pitches, as he noticed hitters "spitting" his changeups while nailing fastballs. (MLB.com)
NO PAIN, BIG GAIN: Tim Stauffer came through his start with excellent results Wednesday after skipping a previous start due to a sore hip flexor. Stauffer put together perhaps the most impressive outing a Padres starter has had so far this spring and is ready for his first full season in the majors as a starter. (San Diego Union-Tribune)
BEER, FASTER: Ever wanted a way to get your beer at the ballpark faster? You're in luck as the Red Sox are adding two beer stands to Fenway Park this season that fills beers from the bottoms up. Yes, you read that right. A recyclable magnetic cap on the bottom of the beer cup flips open to allow beer to pour in before sealing itself shut. This will allow up to 44 beers to be filled per minute. (Boston Herald)
GETTIN' IN THE GROOVE: Brian Matusz didn't mince any words when asked what went wrong during his start Wednesday. "From the get-go, warming up, I couldn't find my rhythm tonight," he said. The good news? Matusz headed to the bullpen after his 1 1/3-inning outing and found his groove then. "It's going to be four hard days of work and then be ready to go on the fifth day," he added. "It was just one of those days where I didn't have it, I didn't get in my rhythm, I didn't do it. Now I know what went wrong and I know what to fix and I'll take it from there." (MASN)
MORE HOT DOGS, PLEASE: Get this: hot dogs may actually be healthier for you than rotisserie chicken, a new study reveals. While the skin of the chicken has more protein, it also packs more carcinogenic compounds, while hot dogs, along with pepperoni and deli meat, have very low amounts. (MSNBC)
FACELIFT: A year after heading to the World Series, the Rangers have spruced up the home ballpark by throwing up a video board that is virtually more than double the size of the old one, the sound system being completely reworked, an upgraded weight room and more. (Ft. Worth Star-Telegram)
For more baseball news, rumors and analysis, follow @cbssportsmlb on Twitter or subscribe to the RSS feed.