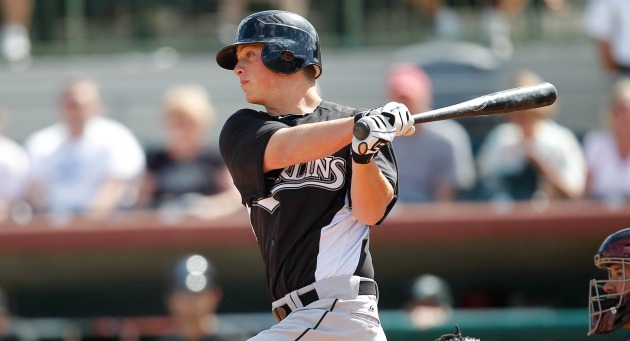 By Evan Brunell
All offseason, the Marlins were adamant about giving 21-year-old Matt Dominguez a shot at the third base job. That never made sense, as Dominguez had yet to play at any level higher than Double-A and hit .252/.333/.411 despite all-world defense. While Dominguez was named the No. 66 prospect in CBSSports.com's top 100 prospects list, it appeared clear he wasn't ready for prime time. Given Florida's notoriously cheap ways, it was likely Florida was hoping to get away with paying Dominguez the minor-league minimum, along with being unsatisfied with the options for third.
Fortunately, the Marlins backed off that plan by optioning Dominguez to the minors after the third baseman hit .190 in 42 at-bats. While this compromises Florida's depth, it was the smart move.
However, the team insists it will not move second baseman Omar Infante to third, and it certainly won't move Chris Coghlan back to second or third, even if that may be the right move for Coghlan. Instead, Coghlan will attempt to play center field. Given the team's insistence on keeping Infante at second and Coghlan in center, they are hemming themselves in to third-base replacements. While the team may have valid reasons for these decisions, it is very strange they are locking themselves into this position. After all, if there's a second baseman or center fielder vastly better than the options at third, wouldn't it make sense to bring them in given the flexibility of Infante and Coghlan?
In any event, the internal options for third are Donnie Murphy, Wes Helms, Emilio Bonifacio and Greg Dobbs. Helms is unlikely to get extensive playing time as he is essentially a glorified pinch-hitter at this point. Dobbs, as FOX Sports' Ken Rosenthal says, "looks 're-energized'," as a scout tells him. Dobbs spent the last four years with the Phillies where he totaled a .261/.310/.427 line in 943 plate appearances, but had an especially poor last two years as the first two years of his Phillies career had a .284/.331/.467 line, certainly capable of starting. The 32-year-old is limited defensively, however, which could open the door for Murphy or Bonifacio, who are considered the top internal options, as the South Florida Sun Sentinel reports.
Bonifacio was the starting third baseman for the Fish in 2009 and got off to a hot start, but tailed off to end up with a .252/.303/.308 line in 509 plate appearances and followed up with a .261/.320/.328 mark in 201 plate appearances. While he can steal bases -- 33 in the last two years -- that offensive line is hard to swallow.
Murphy had a nice cup of coffee with the Marlins in 2010 as a 27-year-old. On his third team, he appears to hit left-handers well enough to draw some starts, but his time against righties in the bigs leaves much to be desired.
The team will also explore external options, with Rosenthal citing Pedro Feliz as one option. Feliz is in camp on a minor-league deal and would earn $800,000 in the majors. Feliz is highly unlikely to make the team, and for good reason. Even for the Royals, Feliz is particularly bad, as his total .218/.240/.293 line in 429 PA reveals. He started the year with the Astros before being released and finishing the season with the Cardinals. Even his once-excellent defense was abysmal, so it's difficult to imagine even the Marlins having interest.
It's very likely the team will have a revolving door at third the entire season, unless the club can swing a trade. In the outset, look for Dobbs and Bonifacio to share time.
For more baseball news, rumors and analysis, follow @cbssportsmlb on Twitter or subscribe to the RSS feed.