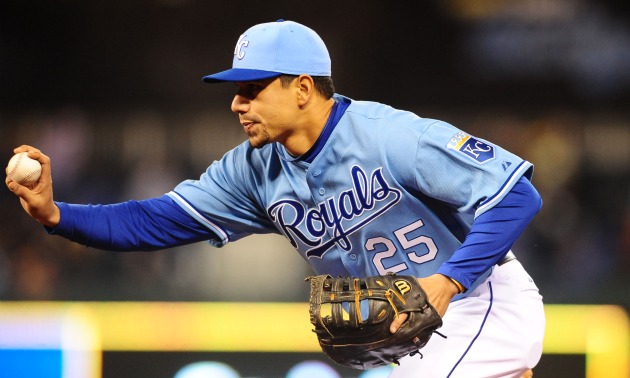 By Evan Brunell
The Royals intend to play Kila Ka'aihue the majority of the time at first base after impressing manager Ned Yost with his range and agility.
"Kila has definitely done a better job at first base" than Billy Butler, Yost told the Kansas City Star. "So he'll probably play there a little more. How much more? I don't know, but it won't be a 50-50 split."
The defensive numbers back up that assessment, with Ka'aihue grading out as an average fielder while Butler hurts the team with his fielding.
"Quite frankly, it's just pure athleticism," Yost added. "Kila is just a little more athletic than Billy at times out there, but it's not a heads-and-tails [difference]."
What does that athleticism provide K.C.?
"It frees [infielders] up mentally to make quicker, snappier throws, because they know they don't have to be precisely on target," Yost revealed. "They know if they bounce the ball in the dirt, there's a good chance it will be caught. They know if it's thrown wide to the left or right, the first baseman is going to have enough agility to get off the bag and make the catch and make the tag. Or that if they make a high throw, the first baseman will have the ability to get off the ground, catch the ball and get back on the bag."
Yost did say that Butler has worked hard at staying solvent at first base and will draw a fair amount of starts at the position. If he had not put in the work, "that would relegate him to full-time DH mode if he ever shut down from working to get better," the skipper noted.
Butler and Ka'aihue aren't expected to be long-term solutions at first, so this is really only an issue for 2011. Top prospect Eric Hosmer looks like he could be a middle-of-the-order bat and draws strong reviews for his defense at first as well, with several predicting Gold Gloves in his future.
"He still has to come out and earn it," Yost said, "but his tools and his athleticism probably give you a pretty good clue" he is the first baseman of the future, Yost said.
For more baseball news, rumors and analysis, follow @cbssportsmlb on Twitter or subscribe to the RSS feed.