By C. Trent Rosecrans
UPDATE (2:03 p.m. EST): The Yankees' signing of Kevin Millwood is official, and now the contract details are out.
Millwood signed a minor-league contract which will turn into a one-year, $1.5 million contract if he's added to the team's 40-man roster. He can earn up to $3.5 million more in incentives. He'll earn $500,000 more with for five, 10, 15, 20 and 25 starts. He'll earn another $1 million if he reaches 30 starts.
If Millwood is not added to the major-league roster by May 1, he can opt out of his contract.
---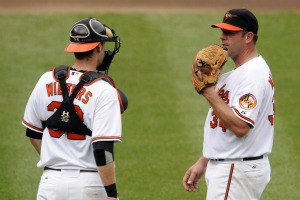 The Yankees have adding veteran right-hander Kevin Millwood, Jon Heyman of Sports Illustrated tweets.
According to a previous Heyman tweet, Millwood would sign an "incentive-laden minor-league deal."
The Yankees brought in Bartolo Colon and Freddy Garcia to compete for their fifth starter's spot, but Millwood adds insurance in case either of those don't work out. It's unlikely Millwood would be with the Yankees to start the season, instead reporting to minor league camp and getting his own type of private spring training in the team's system.
Colon, 37, has had a better spring than the 34-year-old Garcia. Colon has a 2.40 ERA with 17 strikeouts and a walk in 15 innings this spring. Garcia has a 5.93 ERA, striking out 12 and walking two in 13 2/3 innings.
While Colon has had the better spring, he also comes with more question marks. He hasn't pitched in the big leagues since July of 2009 and he's also… how to put this delicately… not in the type of shape that gives a manager confidence in his ability to make 30 starts.
Garcia made 28 starts for the White Sox last season, but had just 23 starts from 2007-09.
Garcia told the Newark Star-Ledger that he'd be fine with working in long relief if that's what the Yankees want.
With Millwood, who was 4-16 with a 5.10 ERA with the Orioles last season, the Yankees have a proven backup plan if needed. If the contract is indeed a minor-league deal filled with incentives, it would appear to be an inexpensive contingency plan for New York, and one that makes a lot of sense. High-risk, low-cost chances are always worth a shot, especially for the Yankees.
For more baseball news, rumors and analysis, follow @cbssportsmlb on Twitter or subscribe to the RSS feed.