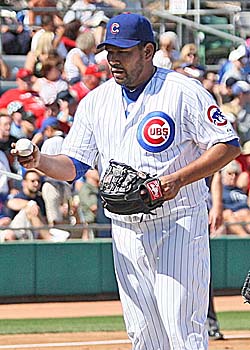 By Matt Snyder
As the last days of spring training pass by, it's becoming increasingly likely that
Carlos Silva
will not appear in a
Cubs
uniform in 2011.
Randy Wells
has been named the fourth starter in the rotation.
Jeff Samardzija
,
Andrew Cashner
and
James Russell
have made the team, which leaves just one open roster spot. The smart money is on Cashner making the rotation as the fifth starter, which leaves the last roster opening for a long reliever.
Braden Looper
,
Marcos Mateo
and
Casey Coleman
are in the mix with Silva. (
Chicago Tribune
via Twitter)
The Cubs were reportedly hoping for some trade interest after Silva's last outing -- his first good one of the spring -- but there's nothing going on that front. (
Ken Rosenthal of FOXSports.com
) In fact, the Cubs are willing to eat "a considerable amount" of Silva's $11.5 million salary this season just to get rid of him. (
New York Post
)
I don't even understand how it's a discussion -- and maybe it isn't. Silva was 2-6 with a 6.15 ERA and allowed opposing players to have an .858 OPS last season from June 12 on. He's been horrible this spring, in addition to complaining about not having a starting rotation spot handed to him and getting in a fight with a teammate -- the mild-mannered
Aramis Ramirez
.
The Cubs have money. Plus, trading
Milton Bradley
for Silva last offseason actually saved the team $5 million. The main reason for the deal was to get rid of Bradley. That happened and anything Silva gave the team last season was gravy. It's over now, so it's time to move on from the initial mistake, which was the multi-year signing of Bradley.
It's time to let the extremely promising Cashner enter the rotation and let someone worthwhile occupy the middle relief role. Whether it's a seasoned veteran like Looper or a youngster, either option is better than an albatross like Silva.
UPDATE:
Well, so much for that. The Cubs have cut Braden Looper -- who plans to retire -- and Silva has made the team, barring any last-minute changes. (
Chicago Sun-Times
via Twitter)
For more baseball news, rumors and analysis, follow @cbssportsmlb on Twitter or subscribe to the RSS feed.