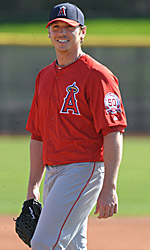 By Matt Snyder
Scott Kazmir
has a spot in the
Angels
' starting rotation to open the season. Just don't say he earned the job.
"Earned?" Scioscia said. "Define 'earned.' He will start the season in the rotation." (
Los Angeles Times
)
OK then. Tell us how you really feel, Mike.
It's tough to blame Scioscia for coming at Kazmir harshly. He was lit up like a proverbial Christmas tree Thursday and now has a 7.79 ERA in five spring starts. He's given up 23 hits and 12 walks in 17 1/3 innings (good for a dreadful 2.02 WHIP). The former All-Star was 9-15 with a 5.94 ERA and 1.58 WHIP last season in 28 starts. At 27, he's still plenty young -- if it feels like he's been around for ages, it's because he was promoted at age 20 -- at some point he has to start showing glimpses of his old self.
In fairness to Kazmir, his manager did want to point out it's not about his effort.
"Kaz has not pitched at a level we feel he can pitch to," Scioscia told the Times. "There's some disappointment in that, but we think the upside is still there to where we want to see where this goes in a regular-season game. Nobody is trying harder than Kaz. Though he's made strides, he's not where he can be and where we need him to be."
Keep in mind the contract. Kazmir is owed $12 million this season and has a $13.5 million club option for 2012. If that doesn't get picked up, and it's hard to see that happening, the Angels can buy him out for $2.5 million.
Basically, it seems like the Angels are pretty unhappy with Kazmir, but are giving him a shot in the rotation due to how much money he makes and their lack of alternative options. No wonder Scioscia was frustrated enough to let loose with the "define earned" remark.
For more baseball news, rumors and analysis, follow @cbssportsmlb on Twitter or subscribe to the RSS feed.