By C. Trent Rosecrans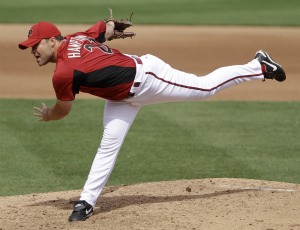 It's a rite of spring, the veteran player tries for one last chance at the making the big leagues. By the end of the spring it becomes apparent they're not going to make the team and the prospect of riding buses for that one last shot doesn't seem so appealing and they decide to hang them up.
Today's example -- Mike Hampton.
The left-hander left Diamondbacks camp on Thursday and told general manager Kevin Towers and manager Kirk Gibson that he was leaning toward retirement. He told them today that he'd made his decision to hang 'em up.
"It just wasn't there," Hampton told MLB.com's Mark Bowman. "In fairness to them and fairness to myself, I'm just done. It's not a decision that's easy to make. It's not one you make overnight. It had been two weeks that different thoughts have been creeping in my head. Then all of the sudden I felt, I think this is going to be it."
Hampton, 38, signed a minor-league contract with the Diamondbacks in December. Hampton appeared in nine games for Arizona this spring, allowing 18 hits and 12 runs, while walking eight and striking out five in 9 2/3 innings.
Hampton finished his career 148-115 with a 4.06 ERA in parts of 16 seasons. He appeared in 10 games for the Diamondbacks last season, not allowing a run as a situational lefty.
Hampton finished second in Cy Young voting in 1999 and was twice an All-Star. Following the 1999 seasons, the Rockies gave him an eight-year, $121 million contract, at the time, the largest in history. He played with the Mariners, Astros, Mets, Rockies, Braves and Diamondbacks.
For more baseball news, rumors and analysis, follow @cbssportsmlb on Twitter or subscribe to the RSS feed.