By C. Trent Rosecrans
Nyjer Morgan
told MLB.com on Friday that he thought he was on his way out of Washington, and he's probably right.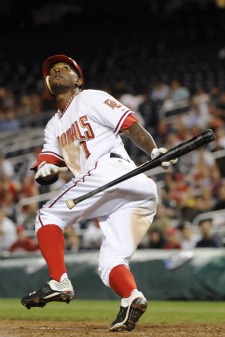 Nationals manager Jim Riggleman said he was "disappointed" by Morgan's comments. From the Washington Post:
"Somebody brought it to my attention, and I did read it," Manager Jim Riggleman said. "The thing about it is, Nyjer has been a tremendous worker this spring. He's been the first guy here. He's putting in the time in the cage, working with [third base coach] Bo Porter on his base running. He's been an outstanding all-around guy. So I'm disappointed that he feels that.

"I'm sure it's based on seeing the two or three other guys he's competing with. Maybe he feels like we're sending him a message that he's not our center fielder. We're still determining that. We're still determining where he fits on the club if he's not our center field. So, yeah, I'm disappointed. I understand where it's coming from."
Friday, Morgan said he could see the writing on the wall with Rick Ankiel and Jerry Hairston Jr. getting the bulk of playing time in center field.
"I'm a realist," Morgan told MLB.com's Bill Ladson. "I'm not going to sit here and be like, 'Oh, no. I want to finish my career here.' I just think this place isn't for me. I'm not saying there are bad people here. It's just that, maybe, I'm not a fit here anymore. It's time to move on."
The Nationals have made it clear that Morgan is on the block. He didn't do himself any favors with his comments on Saturday, but the reaction seems to prove his point.
Morgan is hitting .241/.328/.315 with a home run and six stolen bases this spring. Ankiel, his main competitor, is hitting .229/.288/.500 with three homers this spring. Hairston is hitting .174/.235/.304.
Morgan was the center of several incidents last season, including a brawl with the Marlins. Florida, incidently, may be the best fit for Morgan. The Marlins don't think Matt Dominguez is ready at third base and are unsure if Chris Coghlan can play center field. He could return to third base and the team would be able to use Morgan in center.
For more baseball news, rumors and analysis, follow @cbssportsmlb on Twitter or subscribe to the RSS feed.