By C. Trent Rosecrans
UPDATE (2:47 p.m. EST): Soon-to-be-former Cub Carlos Silva said there's "no chance" he'll go to Triple-A Iowa, as the Cubs have asked him to do if the team is unable to work out a trade.
"No chance," Silva told reporters (via MLB.com's Carrie Muskat). "That's not in my mind right now, not at all. I'm not an insurance player. My guess is that's what they want."
Silva also took a shot at new Cubs pitching coach Mark Riggins, saying Riggins was "not straight" with him about the team's plans. Silva said he had a workout on Friday with Riggins, who was positive about the results, and "an hour later" the pitching coach told him the team's plans.
"I'm like, if you have to say something, be straight," Silva said. "He has to learn he's in the big leagues now, know what I mean? There's no kids around here anymore. The way he laid it out, I don't know what he was trying to do."
Silva said Riggins told him they'd like him to throw in some minor league games, but when Silva said he was ready, Riggins told him the news that the team had decided to go with Andrew Cashner in the rotation and Marcos Mateo for the final bullpen spot.
"He should've started with that first and then say you're throwing the ball good," Silva said. Riggins was the team's minor league pitching coordinator last season.
Silva, according to the Chicago Tribune's Paul Sullivan (on Twitter), also said he was ready to pitch for the Cubs on Monday, his next scheduled day to throw. That seems unlikely now.
------------------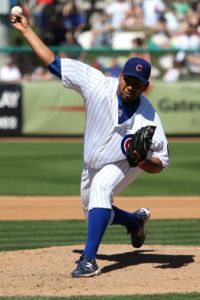 Andrew Cashner will be the Cubs' fifth starter and rookie Marcos Mateo has won the final bullpen spot, that means there's no room in the inn for Carlos Silva.
The team told Silva on Saturday that he has not made the team and Chicago will look to trade him, general manager Jim Hendry told the Chicago Tribune.
"I told Carlos Silva there was not a spot for him unless there's an injury between now and Opening Day," Hendry said. "We will explore trade opportunities with other clubs."
Finding a take for Silva and his $11.5 million contract may not be easy. The Yankees and Nationals reportedly scouted Silva earlier this spring, but the Yankees have sense settled on their rotation and no longer have a need for Silva.
Hendry also told Silva the team would like him to start the season at Triple-A Iowa with a shot to make his way back to Chicago if the team can't find a taker.
The Cubs would be responsible for Silva's entire $11.5 million salary if they were to release him, while the Mariners would be responsible for the $2 million buyout for his 2012 option.
Silva went 1-2 with a 10.90 ERA in five games and four starts this spring. He allowed 32 hits in 17 1/3 innings. Last season he went 10-6 with a 4.22 ERA last season in 21 starts with the Cubs.
For more baseball news, rumors and analysis, follow @cbssportsmlb on Twitter or subscribe to the RSS feed.