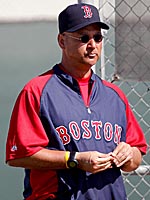 By Matt Snyder
Remember those comments
Orioles
' manager Buck Showalter made about the
Yankees
and
Red Sox
? If not,
click here
to get up to speed. Within the next few days, Showalter said the remarks were "taken out of context" and
Derek Jeter
declined to provide a comment. Shocking on both fronts, I know. Sunday, Terry Francona spoke up and took umbrage with a few parts of the discussion.
"I don't think that's anybody's place. That's my boss. I was actually kind of aggravated a little bit. It's not the end of the world but I thought he shouldn't have done it," Francona said. (
Boston Globe
)
"I just thought that was a little bit out of line," he continued. "I don't think he'd be appreciating if I said something about Andy [MacPhail, the Baltimore GM]. which I wouldn't," Francona said. "It's none of my business. And for the record, I think Andy's really good."
As for the part about Showalter enjoying "whipping" the Red Sox's "butt," Francona noted he didn't remeber the Orioles beating the Red Sox much. When he was told the teams were 3-3 after Showalter took over the Orioles, Francona replied with, "way to go."
Thankfully, it's less than a week until real games start, so some of this petty nonsense can be put in the rearview mirror. Everyone is simply answering questions, it just seems things would be far less relevant if games that mattered were being played.
For more baseball news, rumors and analysis, follow @cbssportsmlb on Twitter or subscribe to the RSS feed.