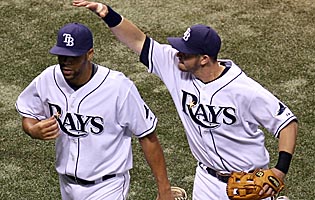 By Matt Snyder
David Price
,
Evan Longoria
and
Reid Brignac
rented a home together in Port Charlotte, Fla. and were victimized in a break-in burglary Saturday night. The assailants made off with quite the haul, too.
Price estimates he had $50,000 worth of losses. The laundry list of some of the items taken: a 60-inch flatscreen TV, headphones, three iPads, two X-Boxes, a laptop computer and several "high-priced" watches.
Fortunately, none of the three players were around when the theft took place. Price was first on the scene after it happened and noticed some plants outside were knocked over, which caused him to contact Brignac and Longoria before the three called the police.
The players were very positive about the job the police department has done for them so far and looked on the bright side.
"Thank God nobody was there," Brignac said Sunday. "If we were there, it would have been a different story."

"That was one of the biggest things," Longoria said, "that everybody was okay and safe, and nobody had to fight their way out of a home invasion robbery. … A multitude of different things could have happened, and there could have been people injured."
(
St. Petersburg Times
)
No word on what kind of karmic mistake Longoria made this offseason, but it's the second time this spring he's been victimized.
He also had a car stolen
earlier this month. Talk about some bad luck. On a very serious note, let's hope it's just a coincidence with Longoria. You never know with famous people and twice in a month is an awfully big coincidence if it is one. Again, let's hope it is.
UPDATE:
One of the items stolen was an AK-47 rifle
that belonged to Longoria.
For more baseball news, rumors and analysis, follow @cbssportsmlb on Twitter or subscribe to the RSS feed.