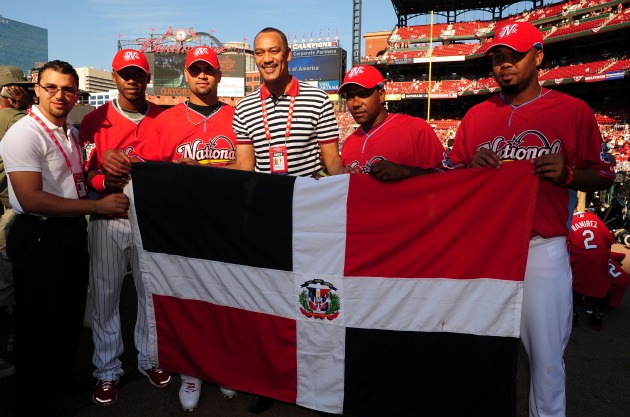 By Evan Brunell
Imagine being thrust in a new country where you don't know the language and are expected to perform at the top of your game in the job assigned to you. Should you fail, embarrassment awaits you back home.
Such is the life of teenaged Dominicans who make the leap to full-season ball in the United States. The Giants' Gabriel Cornier is no exception, but he's receiving a lot more assistance these days than ex-Giants manager Felipe Alou did when he went to the United States to pursue baseball. While Alou would eventually be called up in 1958, and enjoy a productive career both on and off the field, the early going was not easy.
Back then, Spanish was barely known, and Alou didn't know English at all. So when his manager told his team certain information one day, Alou pretended to understand.
"I come to the park with nothing but the clothes I was wearing, and I saw other players bring suitcases and I thought, 'What's going on here?' " Alou reminisced. "There was a bus parked outside and I see all the players get inside the bus, so I get in the bus. I had nothing.
"We went on a nine-day road trip. Nine days. I don't say anything because you don't want to sound stupid, but the guys figured it out and bought me another pair of pants and another shirt."
While Cornier has more support around him, with Spanish-speaking coaches and an English trainer on hand, even in the U.S. and received basic English training in the Dominican. However, it is still difficult for players, who are terrified of being released.
"You come over here, you leave your family there, they're putting all of their future on you making it," Alou said. :Every time their name is called, they think it's to be released. How do you tackle that? You cannot tell the kid, 'We're not going to release you' because maybe you do next week.
"If the Latinos go back home, what do they have there? Baseball is the only thing they have." (San Francisco Chronicle)
CINDERELLA STORY: Tom Wilhelmsen is 27 years old, has never pitched above Class A and was out of baseball from 2004-08 before pitching in indy ball in 2010. That leaves just 2003 and 2010 as seasons of experience with a major-league team, but the righty is one of eight candidates left for seven relief spots. (MLB.com)
LABOR PEACE: Worried that the labor negotiations for baseball could end up as contentious as the NBA and NFL negotiations? Don't worry -- an agreement could possibly be reached by season's end, and even the player's union is willing to talk about changes in revenue-sharing formulas. Even the mild hint of a work stoppage would be a shocker. (Boston Globe)
RIGHTY, LEFTY: The Yankees appear poised to move forward with a lineup that will have Brett Gardner leading off against right-handers. Derek Jeter will lead off against lefties as the team takes advantage of platoon splits. Also, coming Monday will be a majority of the final roster decisions for the Yankees. (The Journal News)
STADIUM ISSUES: The Los Angeles Angels of Anaheim can opt out of their stadium lease in 2016, but that's unlikely to happen given the process of building a new stadium would have to start by 2012 at the absolute latest. Angels owner Arte Moreno for his part believes the current 45-year-old stadium is viable, simply requiring structural upgrades. One potential issue is the city refusing to assist in renovations due to the team's name change that embarrassed the city. (Los Angeles Times)
PLAY THE MAN: The Diamondbacks have a power-hitting first baseman, but insist on not giving him an extended shot. Instead, Arizona will go with aging Russell Branyan and Yankees minor-leaguer Juan Miranda. That leaves Allen yet again on the outside looking in even as he brims with talent. It's time for Arizona to let Allen go to another organization to get his shot, Eric Seidman opines. (Fangraphs)
WANTED: LEFTY RELIEVER: The Mets are looking for a second left-handed reliever to help combat the potent lefty bats in the division. My suggestion? Take a look at lefty Ron Mahay, who was cut by the Dodgers Saturday. (Sports Illustrated via Twitter)
A TASTE OF CHICAGO: The Cubs have switched hot dog and pizza vendors, electing to remain with Chicago staples for each. Vienna Beef returns as the hot-dog supplier after last representing Chicago in Wrigley Field back in 1981 while D'Agostino's pizza replaces Connie's, which also lost out on acting as the White Sox's pizza provider, who will go with Nestle's DiGiorno's. The Cubs are emphasizing Chicago vendors to give fans -- of rough around 37 percent are from outside Illinois a year -- "an authentic Chicago experience." (Chicago Tribune)
For more baseball news, rumors and analysis, follow @cbssportsmlb on Twitter or subscribe to the RSS feed.
PHOTO: July 13, 2009; St. Louis, MO, USA; National League players Hanley Ramirez (second left), Albert Pujols (second left), Francisco Cordero (right), and Miguel Tejada (second right) pose with Dominican Republic minister of sports Felipe Payano during the 2009 All-Star workout day at Busch Stadium.